How To Get Started
Hostwinds offers an affiliate program to anyone interested in joining and making some extra money.  Our program is free to join, easy to sign-up for, and requires no technical knowledge. As an affiliate, you generate traffic and sales for Hostwinds and, in return, receive a commission payment.  To begin signing up, you can visit our Hostwinds affiliate page and click on the Start Making Money button toward the bottom.
Eventually, you should find yourself at the official affiliate login page, as shown below. The main page will outline our reward system and program details. If you still haven't signed up, you can do so by clicking on Sign Up Now (top menu bar or red button under Affiliate Login) to get started.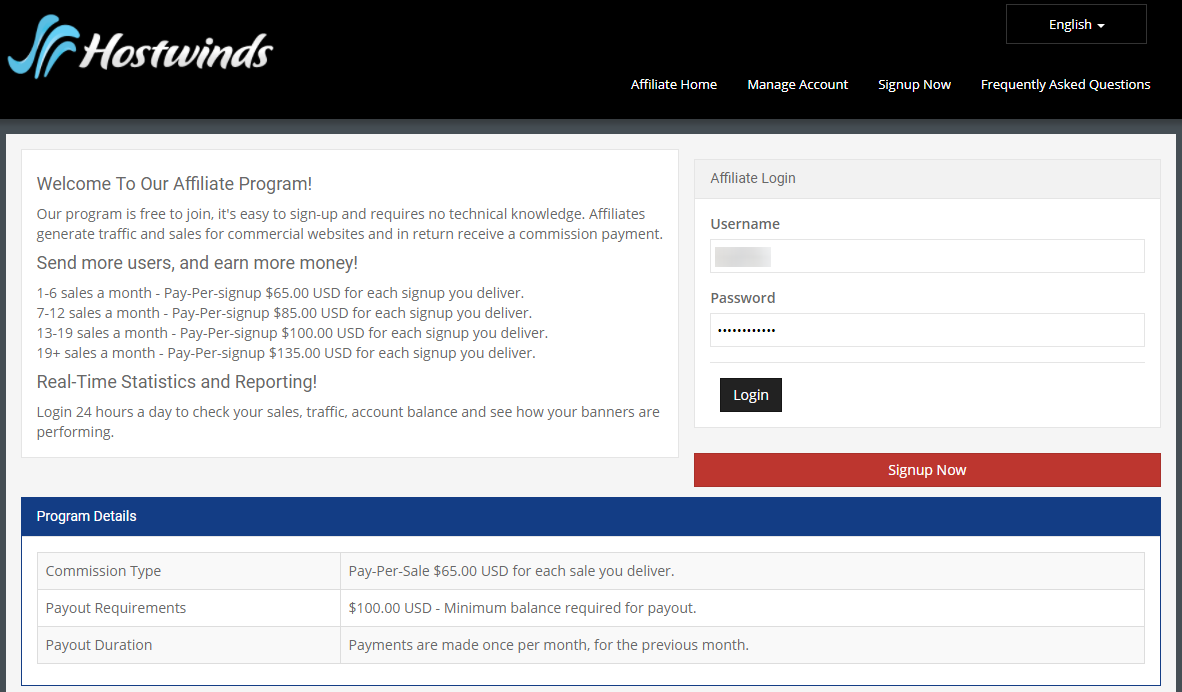 After creating your affiliate account and logging in, you will land on the General Statistics page.  This is the homepage of your affiliate program. It will display your:
Current sale level (green)
Current earning (red)
Total earned (black) to date
Unique visitors (blue)
There will also be a graph displaying the number of visitors each day for the last 30 days.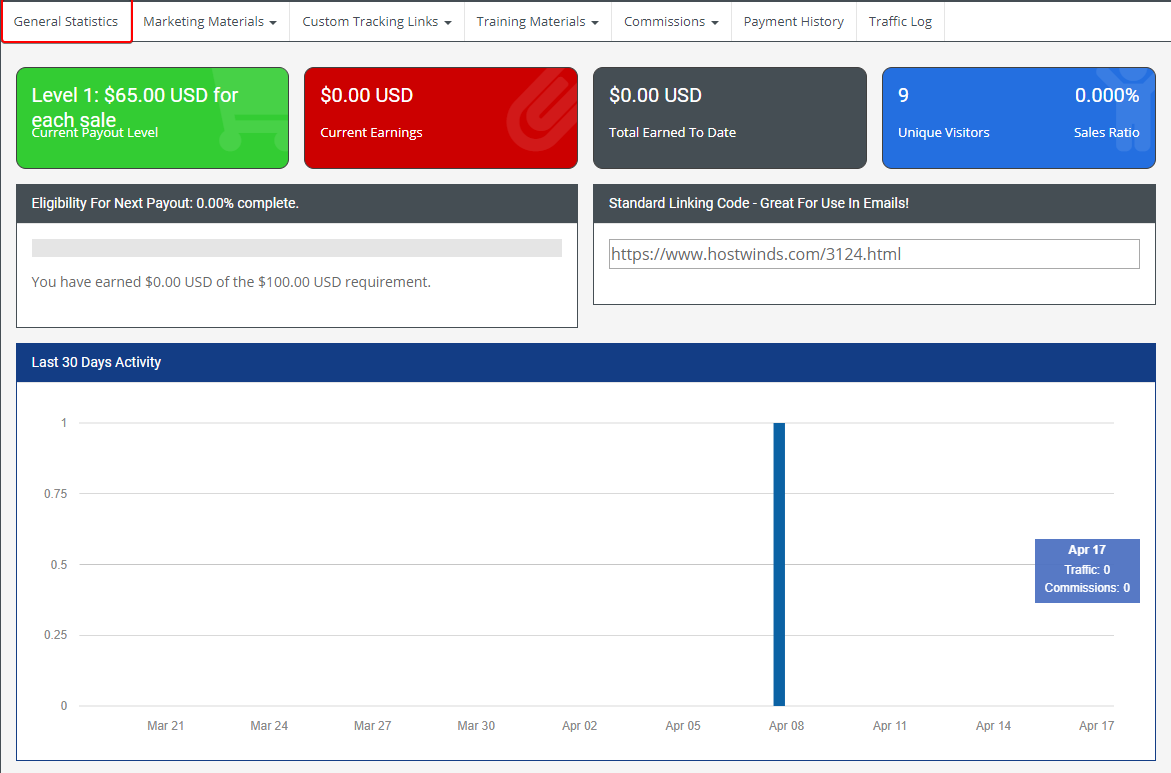 Other Tabs Explained
Marketing Materials is the second option within your affiliate management page. The Marketing Materials dropdown will show three available options to choose from: Coupon Codes, Banners, and Email Links.

Coupon Codes: Coupon codes are provided to our clients by Hostwinds and will typically not be provided to affiliates. However, if a coupon is ever available, you will find it listed here.
Banners: Banners are great for advertising your affiliate link with Hostwinds. Here you can see what the banners look like. You can also grab the HTML code that will produce your affiliate link to Hostwinds. (Example below)
Email Links:  Choosing Email Links will let you request which product you wish to create a link for.  Make a selection from the drop-down to the right of Marketing Group and click Display Email Link. Another window will appear below, providing a direct link URL for an email or an anchor tagged word in HTML.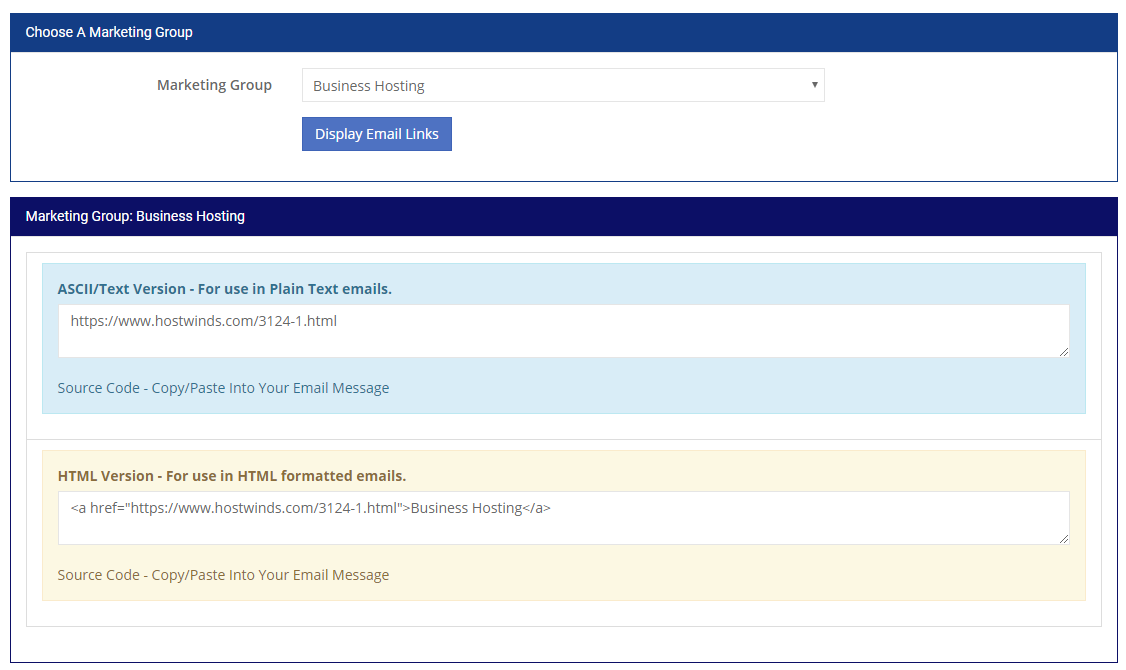 Custom Tracking Links creates custom tracking links you can use to track your affiliate campaigns.  You can use up to four different Tracking IDs (tids), and you can generate a report for each tracking link you create.

Reports: If you have any tracking links created, you can generate a report here. Clicking on Generate Report after selecting any of your keywords will produce a report for you to review any of your tracking data. Accepted Variable Names: tid1, tid2, tid3, and tid4.
Keyword Tracking Links:  Creating a custom keyword link lets you track incoming traffic from various sources. Create a link with up to four different tracking keywords, and the custom tracking report will show you a detailed report for each keyword you create.
Create Custom Tracking Links: Define your own incoming traffic page by entering the URL you want traffic delivered to, and we'll create a link for you. Using this feature will create a shorter link for you to use.
Training Materials will offer any material within our affiliate program to better describe the service and how to use it.

Watch Training Videos: Here, you will find a list of any training videos about our affiliate program.
Custom Tracking Links Manual: This is a link to another tutorial on creating custom tracking links
Commissions will give you a drop-down with several options to display metrics concerning your affiliate's account commissions. These options include Current Commissions, Pending Approval, Delayed Commissions, and Paid Commissions.

Current Commissions: This shows any current commissions processed but not yet paid
Pending Approval: Lists any pending commissions awaiting administrative approval
Delayed Commissions: Once in a while, commissions will not post under current. If there is any delay in processing, they will appear here.
Paid Commissions: This Will show a complete history of paid commissions since your account was created.
Payment History will display your full history of payments from Hostwinds. We pay out all affiliates on the 10th of every month. You MUST have clicked the "Request Payout" button that appears in your account when you are eligible to be put in the processing queue.

Traffic Log shows up to the last 100 incoming IPs and how they navigated to your affiliate link.  It will show the date, time, IP, and referral link.