Once set up, saving your important files to the Hostwinds cloud is as easy as pie.
The Hostwinds cloud
Generally, the most applicable Hostwinds service for backing up your files to the cloud is object storage. Setting up object storage is relatively easy; and once set up, very easy to use. If you currently do not have Hostwinds object storage available, you can order it as a standalone service. One nice feature of Hostwinds object storage is that if there's nothing in it, there's no charge. And once something is stored, it's a very low hourly rate per GB (see Pricing for details).
The following procedure shows you how to quickly set up and use Hostwinds object storage for a Windows computer.
Setting up Hostwinds object storage
1. Navigate to your Cloud Portal.
2. Select STORAGE, and then Object Storage: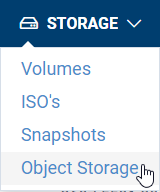 3. Select the blue Create Container button.
4. Enter a container name, choose the location that's closest to you, and then select the CREATE CONTAINER button. Wait a few moments for the container to be added (you can select the Refresh Containers button if it seems to take too long).
5. Select the green Object API Info button, and for your location, record the Access Key, Secret Key, and API Endpoint values.
6. Download and install the Amazon S3 Browser (for details, see What is S3 Browser).
7. Start the S3 Browser application. For Account type, select S3 Compatible Storage, and then enter the information you recorded in step 5. For example: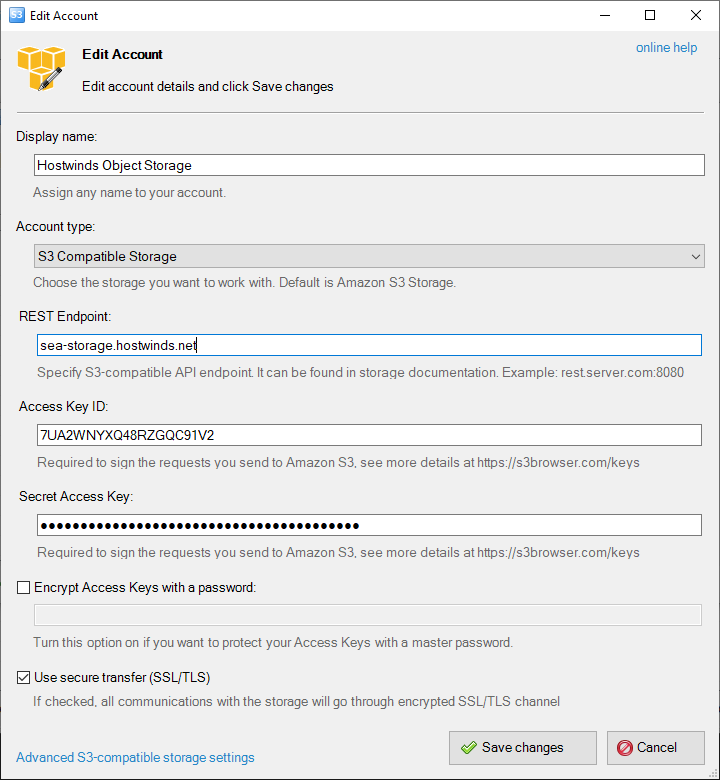 Select the Add new account button. You should now see the container you created in step 4 (FauxBackups, in this case):



We'll next discuss how to use the S3 Browser application to quickly and easily save your important files to the cloud.
Using Hostwinds object storage
With the S3 Browser application, it's a relatively simple matter to upload files to the Hostwinds cloud. For example:
1. Select a container (FauxBackups, in this case), Files, and then Upload file(s) or Upload folder(s):

Your selected files and/or folders are uploaded to the cloud.
2. The upload can be confirmed by going back to your Hostwinds object storage webpage and selecting the Refresh Containers button. You will now see a non-zero SIZE value (3.934 MB, in this case):

3. You can delete files/folders from the cloud by right-clicking one or more in the 3S Browser application and selecting Delete, as in the following example: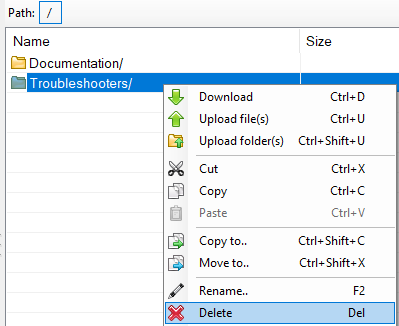 Please see the S3 Browser online help for additional features and enjoy using the Hostwinds cloud!
Additional Resources