Welcome Back To Hostwinds
You may have noticed some changes lately at Hostwinds, and we wanted the opportunity to tell you all about it.  In 2010 Hostwinds was created with one vision.  That vision was to provide a superior hosting service at an affordable cost to the world.  However, our desire did not stop there.  We know hosting should include an array of products tailored to their customer's needs.  The products should consist of tools that make managing them more efficient and save time.  Hosting should provide the support that is available twenty-four-seven and provides solutions promptly.  Hostwinds not only consists of all these things and more, but we are constantly working toward perfection for our appreciated customers.  That is why we continue to make changes to improve our customer's experience.
The most evident change is our leading marketing site and where our customers can review all our product lines.  Our design is more modern and sleek.  Hostwinds still provides an array of products that suit our customer's business needs.  However, our changes improve the overall customer experience in many ways.  Our layout is more straightforward and more welcoming.  At face value, customers will appreciate who we are, what we represent, and the products we offer.  Navigating through www.hostwinds.com is simplified, as we included all of our available services in easy to select dropdown options.  Selecting a product will take you immediately to it, where it presents an easy-to-understand layout and explanation of what is all included with the available pricing options.
Moreover, each product page has popular questions, and answers demonstrated toward the bottom.  The questions and answers help explain the reviewed service more in-depth, helping serve our customer's expectations.  If customers ever want to study another product option, they can do so with ease by using the dropdown menus at any time at the top of the web page.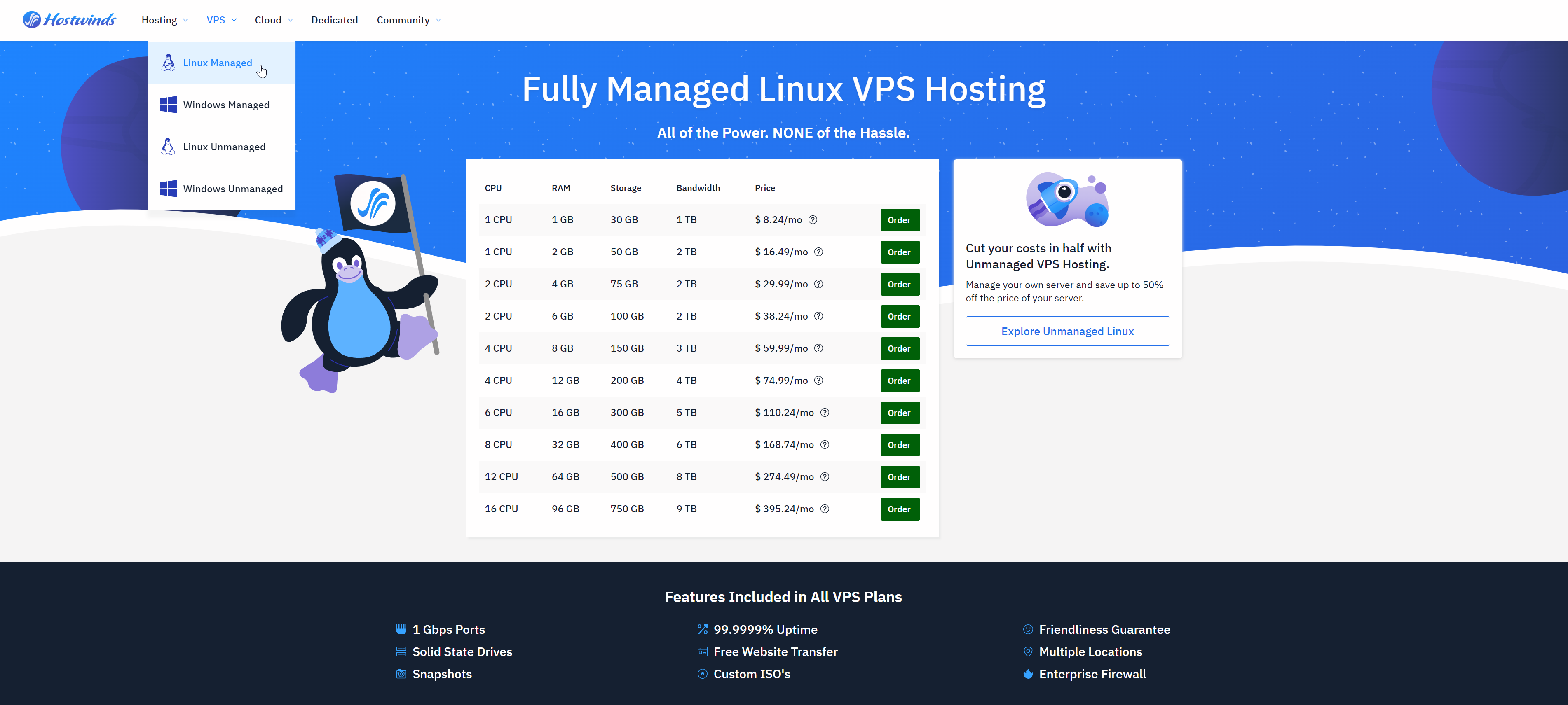 Hostwinds customers can also notice our formatting works and displays nicely across any platform.  Regardless of what device our customers visit us with, their experience remains the same.  Lastly, Hostwinds offers our website translated into many alternative languages now, further eliminating any language confusion.  The language dropdown is present in the top right corner of our webpage.  Hostwinds has done all this while keeping everything easy and quick to understand.
Other noticeable changes to Hostwinds appear in our product documentation, tutorials, and blogs.  Originally, Hostwinds had all of this information within one place, known as our knowledge base.  Although our knowledge base provided further learning, we did not like how our documentation presented itself.  That is why we threw it all away and started from scratch.  We now include all our informational documentation under our community option found at the top of the Hostwinds webpage.  Hostwinds customers can now navigate to our community section to explore information directly in an organized fashion.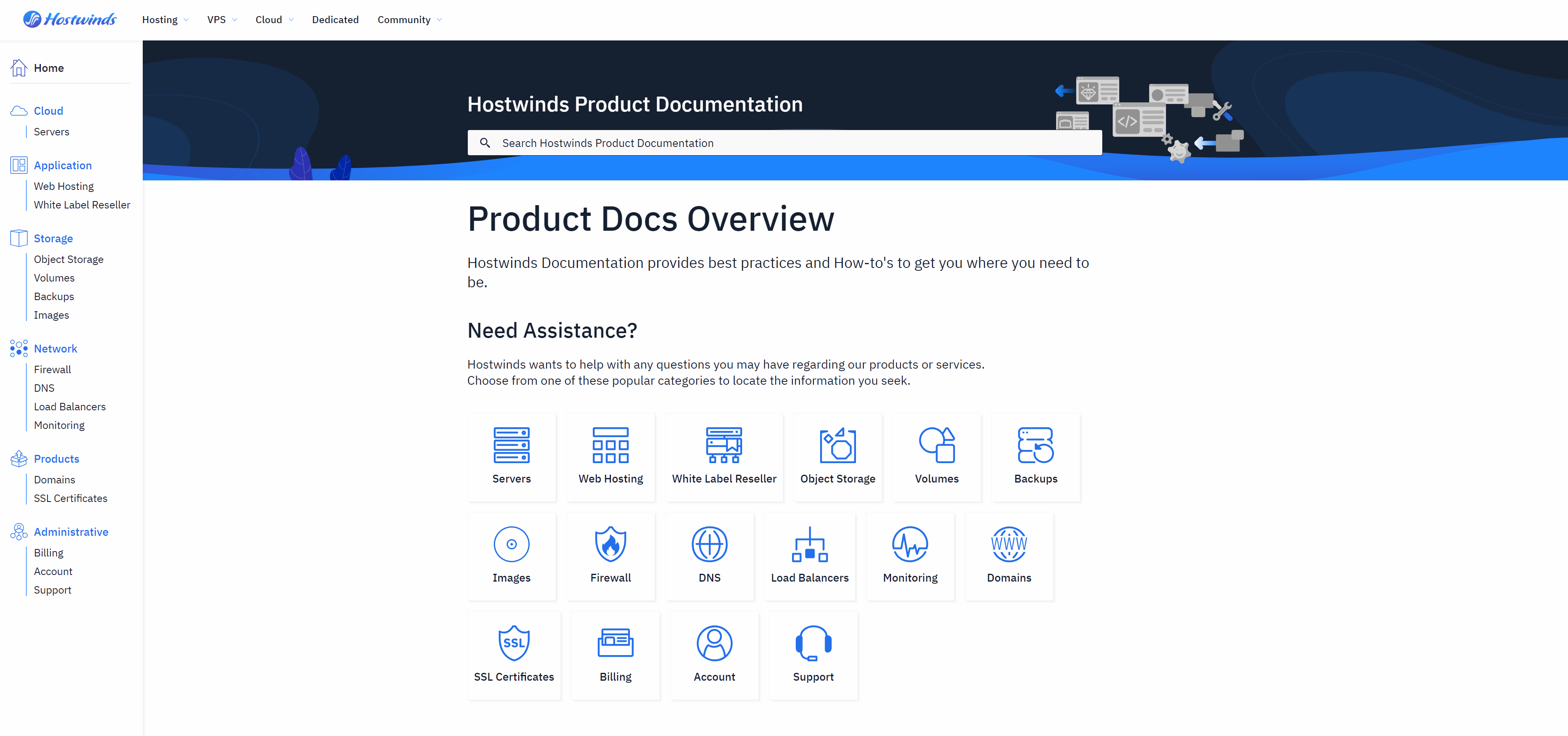 Our new product documentation specifically took the place of Hostwinds old knowledge base area.  On the left-hand side, Hostwinds now provides an easy-to-understand breadcrumb-type menu.  This new menu offers a clean approach to organized information about Hostwinds products more in-depth.  Each topic includes additional content designed to help answer any further questions our customers might have.  There is also a nifty, fast-acting search bar to find relevant information within our directory by just typing what you may need.
Hostwinds tutorials are different from our product documentation, and rightfully so.  Within our tutorials, you will find an abundant supply of step-by-step instructional procedures to accomplish tasks.  Maybe customers want to install OpenVPN on their Hostwinds VPS, or they wish to know how to renew their SSL at Hostwinds?  We are constantly growing our tutorial section so that customers can find solutions quickly, all within one place.
Finally is our blog section, where Hostwinds customers can come to find out the latest news about Hostwinds.  We are revamping our blog posts and why customers may notice many of our past blogs are no longer available.  As we began updating our website, we decided much of our old blog content was outdated or irrelevant.  Although much of our old blogs are no longer obtainable, our new ones will help our community learn something new and relevant to today's hosting trends.
Hostwinds considers our customers like family, which is why we are currently undergoing essential changes on their behalf.  Although Hostwinds has made these changes to our marketing website, there are no changes to our Hostwinds portal and cloud portal.  We make changes methodically, never to disturb the functionality of our customer's hosting and business.  Hosting shouldn't be complicated, and we aim to please.  Hostwinds is excited to present these new changes to the world and cannot wait to tell you about what's coming!  Our heart is in affordable hosting, and we aspire to make it perfect for our customers.