The Email section in cPanel allows you to manage the email-related functionality for your domains associated with your account.

In this article, we will briefly cover each option and its corresponding icon.
Email Icons in cPanel
Email Accounts: Here, you can manage and set up email accounts for domains associated with your cPanel account. Add a new Email Account, Change Your Email Account Password, set up your mail client like Outlook, Thunderbird, or another email application, and more with this area.
Forwarders: This interface allows you to set email forwarders to forward emails to another destination. Email Forwarders do not have a username or email address and are only used to Forwarding email messages. We highly suggest using Email Fetching with a mailbox if you are going to forward emails to Gmail or another provider as Forwarding SPAM counts as Sending SPAM and may cause significant delays or even blocks against your domain name when sending an email.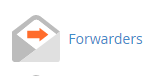 Email Routing: This interface Route a domain's incoming mail to a specific server.

Auto Responders: You can configure an email account to send automated email messages. This is great if you will be away from your email and want to inform the sender that you are away.

Default Address: You can use this interface to set the default email address. This is useful to catch any message sent to an invalid email address and be used as a catchall.

Mailing Lists: You can use this interface to create a list of multiple email addresses to send messages to or set up a Mailing List from Softaculous.

Track Delivery: This interface allows you to track the delivery route of an email. If you have any issues with sending or receiving emails, this is a great place to look.

Global Email Filters: Here, you can create and manage filters for your main email account.

Email Filters: Create and edit email filters for an email address associated with your cPanel account.

Authentication: This interface allows you to enable authentication methods, such as DKIM and SPF.

Address Importer: You can use this interface to import Email accounts or Forwarders.

Apache SpamAssassin: Through this interface, you can enable SpamAssassin and configure it. The score is counterintuitive, so the lower the number, the higher the setting. You can also set up your Whitelisted and Blacklisted accounts through this interface if you are using SpamAssassin along with the Filters above to help combat SPAM automatically.

Encryption: Enable GnuPG to encrypt email messages using the public key approach.
Calendars and Contacts: This interface provides information to aid in the configuration of CalDAV and CardDAV clients so that you can access your Calendar and Contacts remotely.

If you can't find what you need in our Knowledge Base, look at the very bottom of your cPanel home page.  You should see a link called "Documentation," or a cPanel icon that will address any cPanel specific questions in detail at their homepage.