The Metrics section, previously known as the Logs section, is where you can find comprehensive information regarding the status/traffic of websites associated with your cPanel account. You can also find error-related information here as well, along with other metrics that you may find useful.

In this article, we will briefly review each option that is available via the Metrics section.

Visitors – This interface will display as many as 1,000 of the most recent Apache log entries for a website associated with your cPanel account.

Errors – This will display the last 300 errors for your website(s).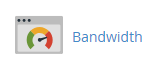 Bandwidth – Displays the bandwidth usage for your site(s).

Raw Access – With this interface, you can see who has visited your site without displaying charts or graphs. You can download a zipped version of the server's access logs for your site.

AWstats – Produces and displays visual stats about visitors to your site.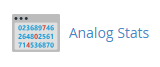 Analog Stats – Produces a simplistic summary of all your site's visitors.

Webalizer – A very in-depth statistics program that can produce charts and graphs about visitors to your site.

Webalizer FTP – Similar to Webalizer, however, this interface can produce charts and graphs about visitors to your site using the FTP protocol.

Metrics Editor – This allows you to choose what statistics programs that you'll use when viewing site stats, only if you're permitted to do so.

CPU and Concurrent Connection Usage – resource monitoring tool that lets you view detailed information about problematic processes and database queries running on your account. The information can then help you determine why a resource limit was triggered.