If you've registered a domain with Hostwinds, you may get an email from donotreply@name-services.com to verify your domain name registration. You must reply to this email and keep your contact information updated with us. If you've received an email that reads:
Thank you for choosing Hostwinds.
As part of our ongoing data privacy and security efforts, we're requesting that you set your data use consent preferences.

Set your data use consent preferences

You can learn more about how and why we process the data we collect by accessing your consent management page using the link above.

Thank you, Hostwinds
You must click the link in that email. ICANN's official documentation requires that the following information be accurate:
Phone Number
Email Address
Mailing address
If you registered your domain with Hostwinds, this information might be updated here.
What Happens If I Do Not Do This?
ICANN, the organization in charge of domain names, ICANN may replace your website with a page that looks like this: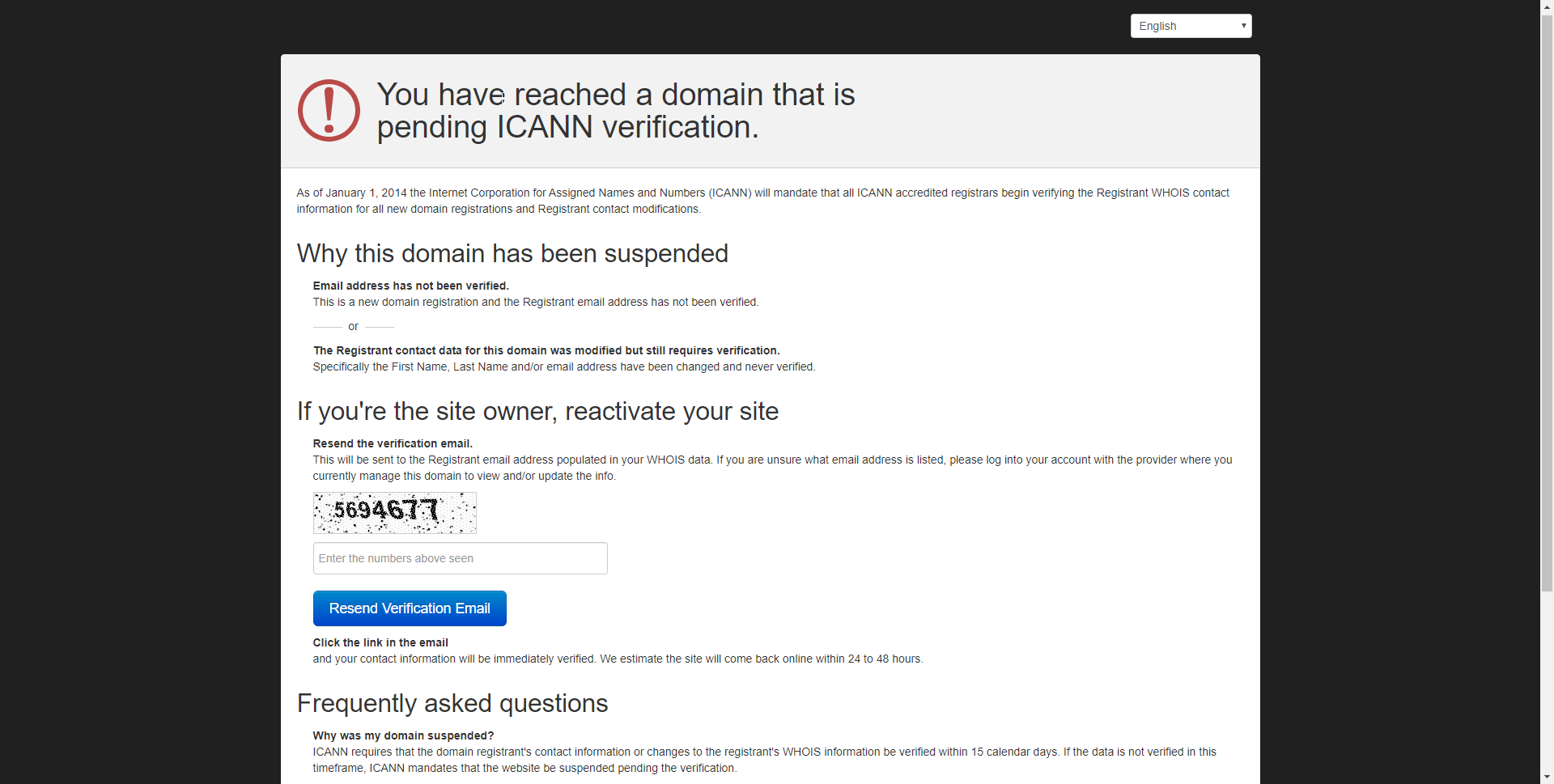 ICANN Verification page
How much time do I have to verify my domain?
If your domain's information is not verified within 14 days after being newly registered, you may face downtime.
If the domain was registered previously, but the information appears outdated, you will have 7 days to verify the domain.
I already verified. Why do I see this email?
If you've changed your email address, first name, or last name on file with us, ICANN will send a verification email to ensure that this is correct.
If This Has Happened To You
While losing access to your site and seeing this instead may be frustrating, it is possible to recover your site.
Visit your website in your favorite browser.
Find the heading labeled "If you're the site owner, reactivate your site."
Please enter the code it asks for in the form.
Click the blue-button labeled "Resend verification email."

The email that you receive should look similar to the following:

From: \donotreply@name-services.com
Date:
Subject: IMMEDIATE VERIFICATION required for [yourdomain.com]

As of January 1, 2014, the Internet Corporation for Assigned Names and Numbers (ICANN) has mandated that all ICANN accredited registrars begin verifying the WHOIS contact information for all new domain registrations and Registrant contact modifications.

The following Registrant contact information for one or more of your domains has not yet been verified:

Name
Address
[google map link]
Address 2
City
State Province
Postal Code
Country
Email Address

Please click the link below to verify the Registrant email address. You have a 15-day window from the time of the contact change to verify the email address. After 15 days, the domain(s) associated with this Registrant contact will be suspended until the e-mail address is verified.

By verifying your email address, you acknowledge that you have read and agree to the Registration Agreement

\<https://www.enom.com/terms/agreement.aspx>.

Click here to verify your email address

[verification link]

If the above link does not work, please copy-and-paste the following URL into an open web browser to complete the verification process:

[verification link]

Once you click the link, your email address will be instantly verified and there is nothing further for you to do on the following domains:

[yourdomain.com]

Sincerely,

Hostwinds
Please note it may take up to 24-48 hours for your site to be successfully verified.
If you have any further questions or concerns about this, we are always available to answer questions.