Hostwinds offers many options to help build your website simple and easy for our Shared and Business hosting clients. In addition to our Softaculous Apps Installer (which can install services like WordPress, Drupal, Joomla, and more), we also offer Weebly; which is a drag-and-drop website builder that lets you build your site using modern themes and modify your site with little or no coding experience required.
It is important to note that the information provided in this guide is for informational purposes only. The premium features and changes made after the time writing this guide may be different and will be displayed to you in your Weebly account when editing your site through Weebly. Please open a ticket with our Support Team if you have any questions or need help with our services.
Weebly's Settings can also be customized in many different ways to fit the needs of many different types of websites. In this article, we'll go over Pages settings discussing how to reorder pages, add pages, change the home page, edit the page name, and copy/delete a page.
Re-order Pages
Drag pages up/down to reorder and left/right to create sub-pages.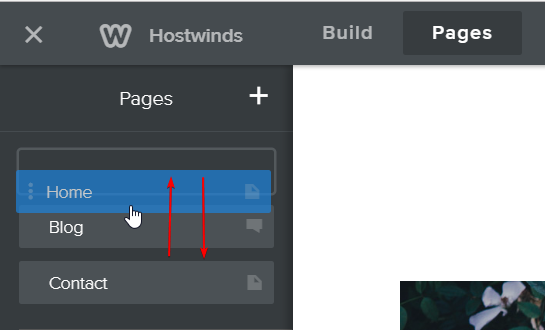 For example, the first spot on the list is the home page to switch any page to.  We are moving the Home page down in the above image, and the Blog page will take the Home page position.
Add Pages
Click the plus icon to add a new web page.

After you click on the plus sign, a Pages drop-down will be displayed, providing page options you can add to your website.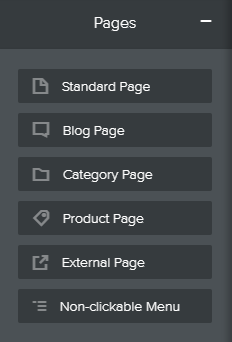 Once the page you would like is selected, you will have one last option to name the page to your liking. Otherwise, it will stay as the default title until later edited.  It's also worth noting the page you select may have pre-filled information, like Products, which will automatically load your Weebly Store information for use if needed.
Change Name, Header Type, Visibility, SEO Setting, and Navigation
Click the icon that brings you to additional information for the page you select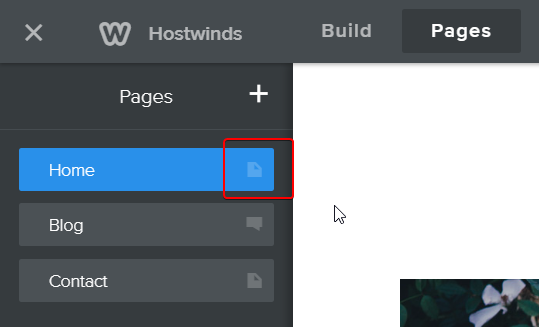 You will be able to edit the header, visibility, SEO, and hide navigation options.
From here, select any option to edit, including an area to change the page name, hide navigation, and more.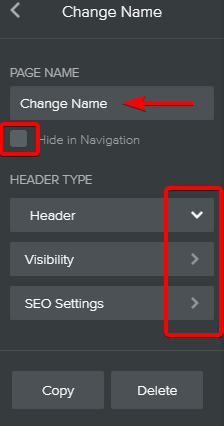 Hide Navigation makes it easy to direct your customers the way you want without using a menu.
The Header lets you add and remove elements, customize the background, and adjust the height of the header area.
Visibility sets your site to be viewed by the public, password-protected, or certain members of a group.
SEO (Search Engine Optimization) lets you improve the visibility of the website or web page with search engines such as Google
Copy or Delete Page
Weebly makes it easy to copy or delete any of your current pages among your selective options.  First, select the page you wish to copy or delete.  You will then be presented with the options below to select.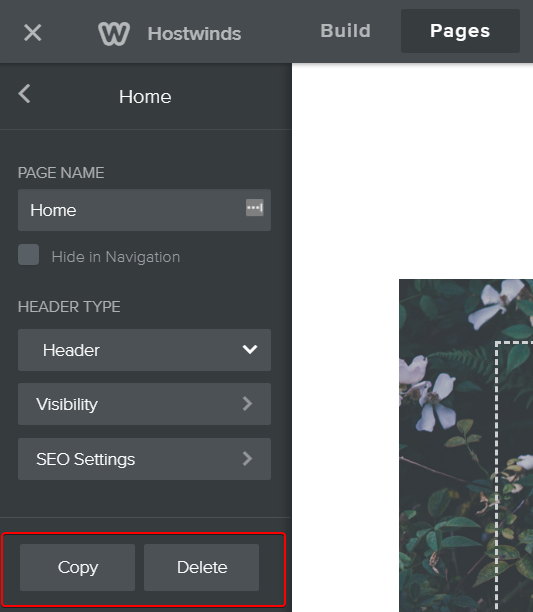 Copy – Duplicates the selected page as a new one
Delete- Erases the selected page