By default, the provided Weebly website builder included in our shared and business shared services is the free version.  This version of Weebly includes drag and drop features with a 500MB limitation.  However, if you enjoy Weebly and you would like to upgrade to a more powerful version with lots of new features and abilities, you can do so by following the directions described below.
It is important to note that the information provided in this guide is for informational purposes only. The premium features and changes made after the time writing this guide may be different and will be displayed to you in your Weebly account when editing your site through Weebly. Please open a ticket with our Support Team if you have any questions to help.
How To Upgrade Weebly
To begin upgrading your Weebly experience, you will first need to log into your cPanel account.  Once logged into your cPanel, follow these next steps.
Step 1: Select Weebly from your cPanel interface

Step 2:  If you do not have a Weebly account created, you will need to follow the prompts to create your first website.  If you already have an account, select Edit next to the domain you wish to upgrade.

After selecting edit from your cPanel >> Weebly portal, you will be transferred to Weebly's portal interface.  Proceed by selecting Edit Site to enter your Weebly admin dashboard.

Step 3:  At the top right of your Weebly dashboard, you will notice a yellow upgrade button.  Click on Upgrade.

Step 4:  A window will pop up describing the available Weebly upgrade options.  Select the plan you wish by clicking on Order Now.  Proceed through the checkout screen.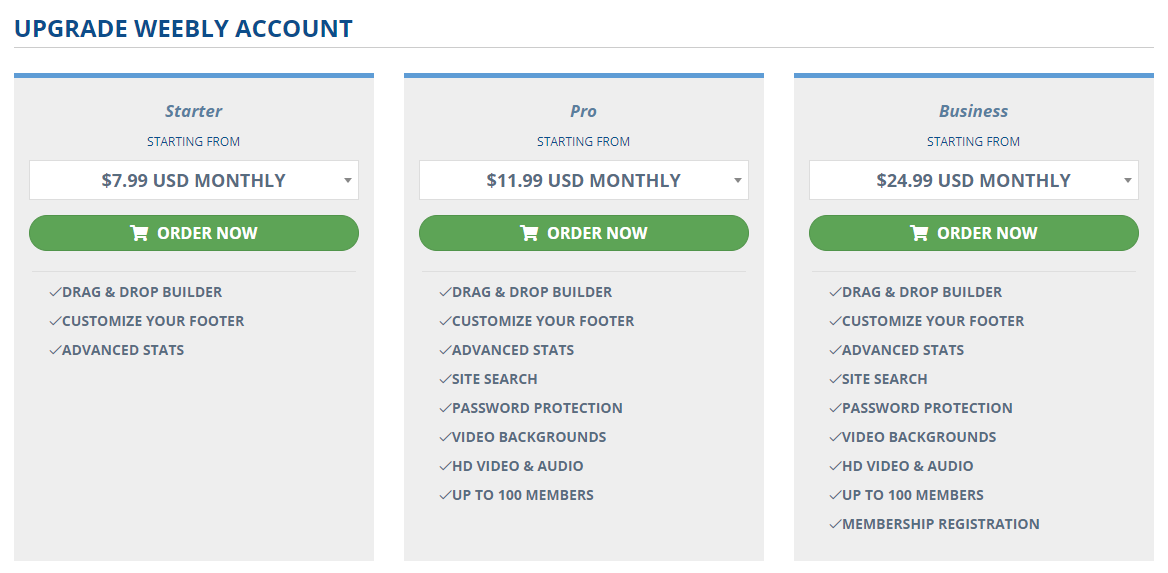 Pricing subject to change from this provided image
Once your plan is updated to the plan you need, the new Weebly features are available for you to start using immediately.