Joomla Content Editor, otherwise known as "JCE," is a content editor for Joomla that comes loaded with features. Some of the features are:
Image Manager Extended (IME) Is used to create thumbnails to any part of the Image. You can also insert multiple images with it. You are also able to create responsive and popup images.
Media Manager, Is used for inserting a wide array of files, including Adobe® Flash®, Apple Quicktime®, Windows Media Player®, and HTML 5 Video and Audio. You can see just past in Youtube and Vimeo videos. Along with HTML5 video and audio with several source options.
File manager, allowing you to create links to images, documents, media, and other common file types. Also, Include a file type icon, file size, and modified date and Insert as a link or embed the document with an iframe. Along with creating downloadable files using the download attribute.
There are more options not listed here. You can find the full list here.
Installing JCE makes life a little easier and replaces the built-in WYSIWYG editor in Joomla. With this extended functionality, you will replace the TinyMCE editor when editing your Joomla content.
Install JCE
Visit the Extensions menu > select Manage.
Add the Joomla Extensions Manager by clicking the "Add Install from Web" button if you agree to their Terms of Service.

Type in jce in the search box and hit Enter on your keyboard, or click the magnifying glass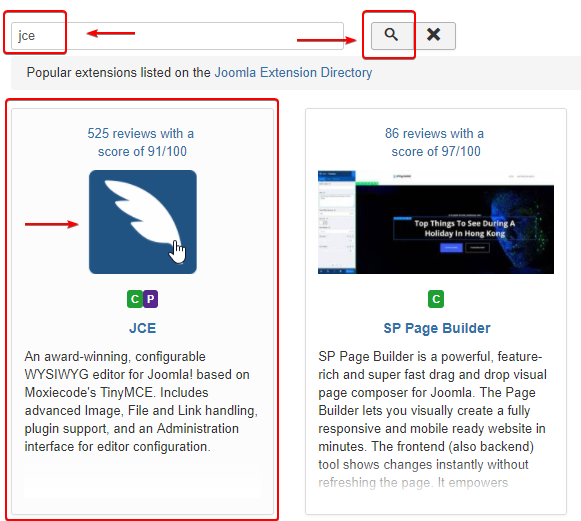 Click on the JCE Editor image.
Click on the Install Button
Review and confirm the installation and click Install
Set JCE as Default Editor
Navigate to System > Global Configuration
Next to Default Editor > Select JCE from the drop-down
Click the Save button in the top left corner