Magento is a popular open-source e-commerce framework that provides you with a full platform to create an e-commerce website. There are two main versions of Magento. One version is Magento Community which is free to use for anyone. There is also Magento Enterprise which ranges in cost per year. This guide will describe the community edition of Magento 2, which is the version of the software most clients use for their Hostwinds Shared or Business web hosting account or a Cloud VPS or Dedicated Server.
Magento Features
Magento offers a full feature set of everything that an E-commerce store will need to run its business.
Allows you to control multiple websites and to customize their appearance with templates
Support for multiple languages and multiple tax rates for your customers
Inventory management and batch import and export of products
Customer order status and history, newsletter subscription, default billing, and shipping address
Process payments through credit cards, PayPal, Authorize.net, Google Checkout, and others
Create orders through the admin area, create multiple invoices, shipments, and credit memos
Support for single-page checkout and checkout without having an account
Allows multiple languages and currencies and also a list of allowed countries for shopping
The Marketing and Promotions to create coupons, discounts, and different promotion options
Analytics and Reporting, which is integrated with Google Analytics and offers many different reports
Magento dashboard
The Magento dashboard tab provides an overall view of the current state of your most important eCommerce store metrics. It also allows you to filter the view that you are provided to see an overall view or see a specific store of yours at a glance.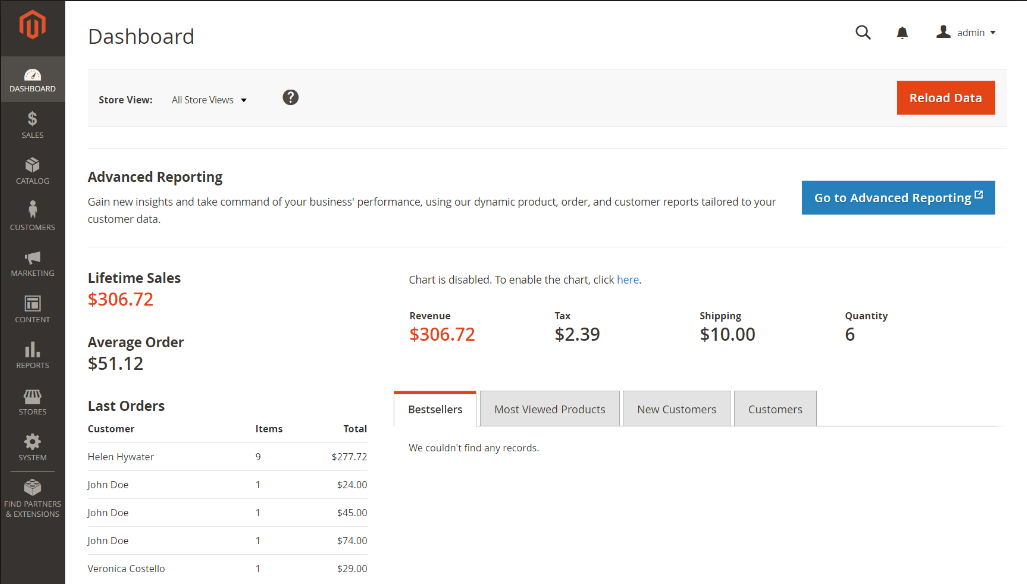 Magento Catalog of Products
From the  Products tab, you can manage all of the products that you have in each of your online stores. You can choose the specific website of yours that the product is listed on, and you can enable and disable the product so that you can phase products in and out.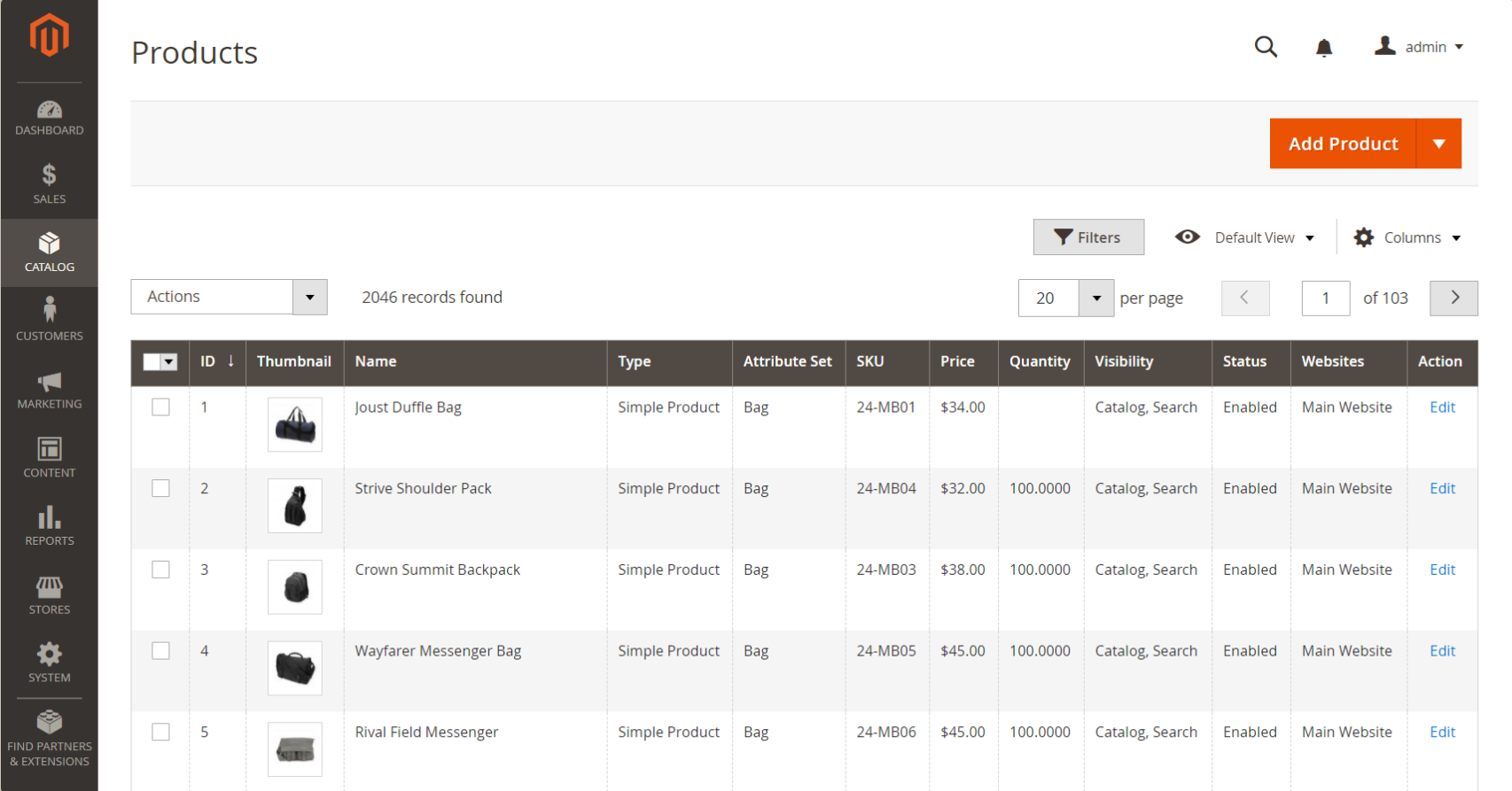 Site Content Page
The Content page will allow the user to add themes to Magento to style their different stores and pages within each store in the way that they would like. There is a wide range of free and paid themes available, which will allow for the creation of a range of different-looking stores more quickly than if they had to be constructed by hand by a developer.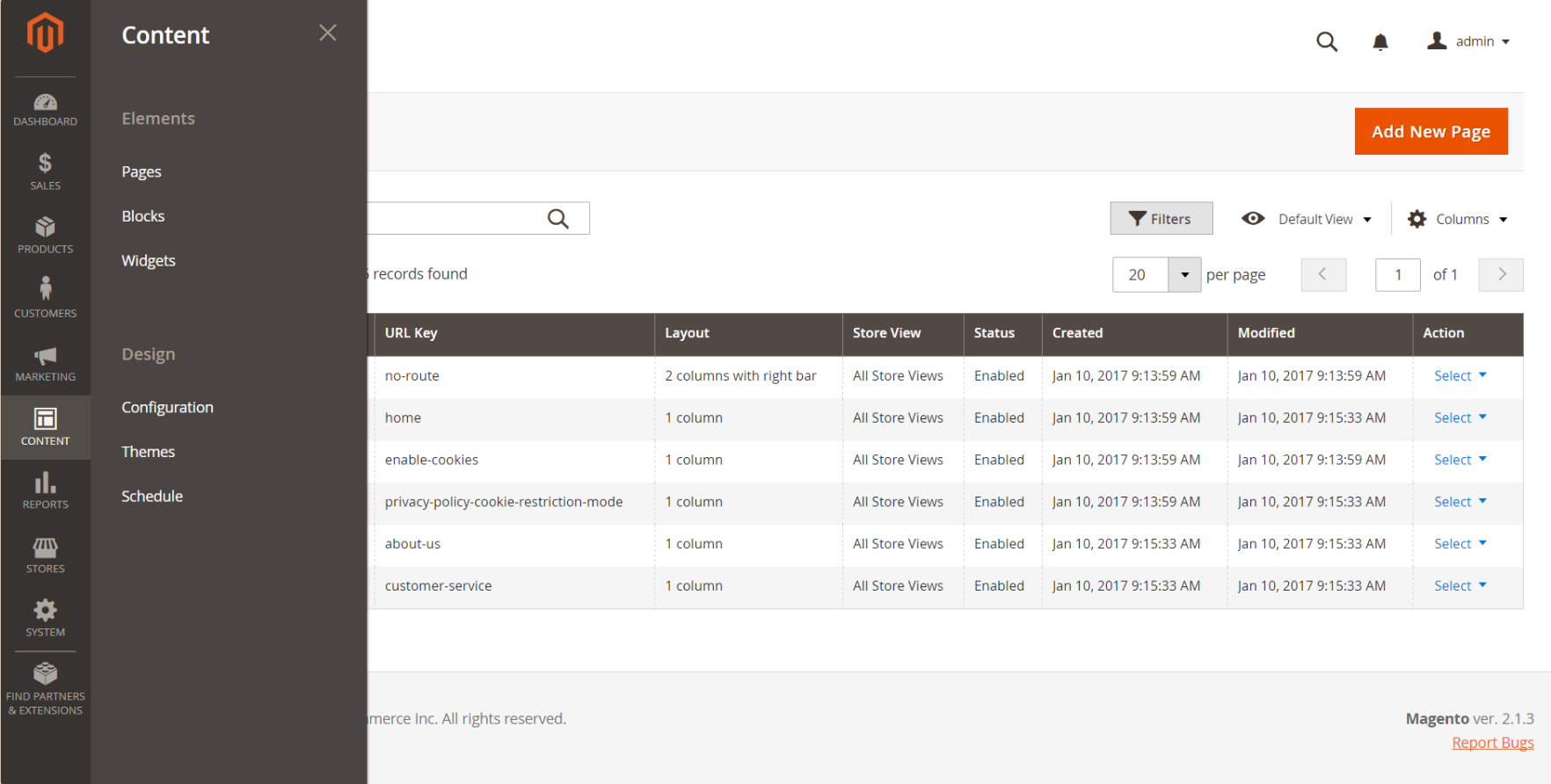 Magento Reports
You can select from several different report metrics on the reports tab to have a good sense of the current state of your business. It will allow you to find out about the common search terms that your customers are using. You can also find out about the abandoned carts of customers who left and then use that information to steer the shopping experience you are presenting.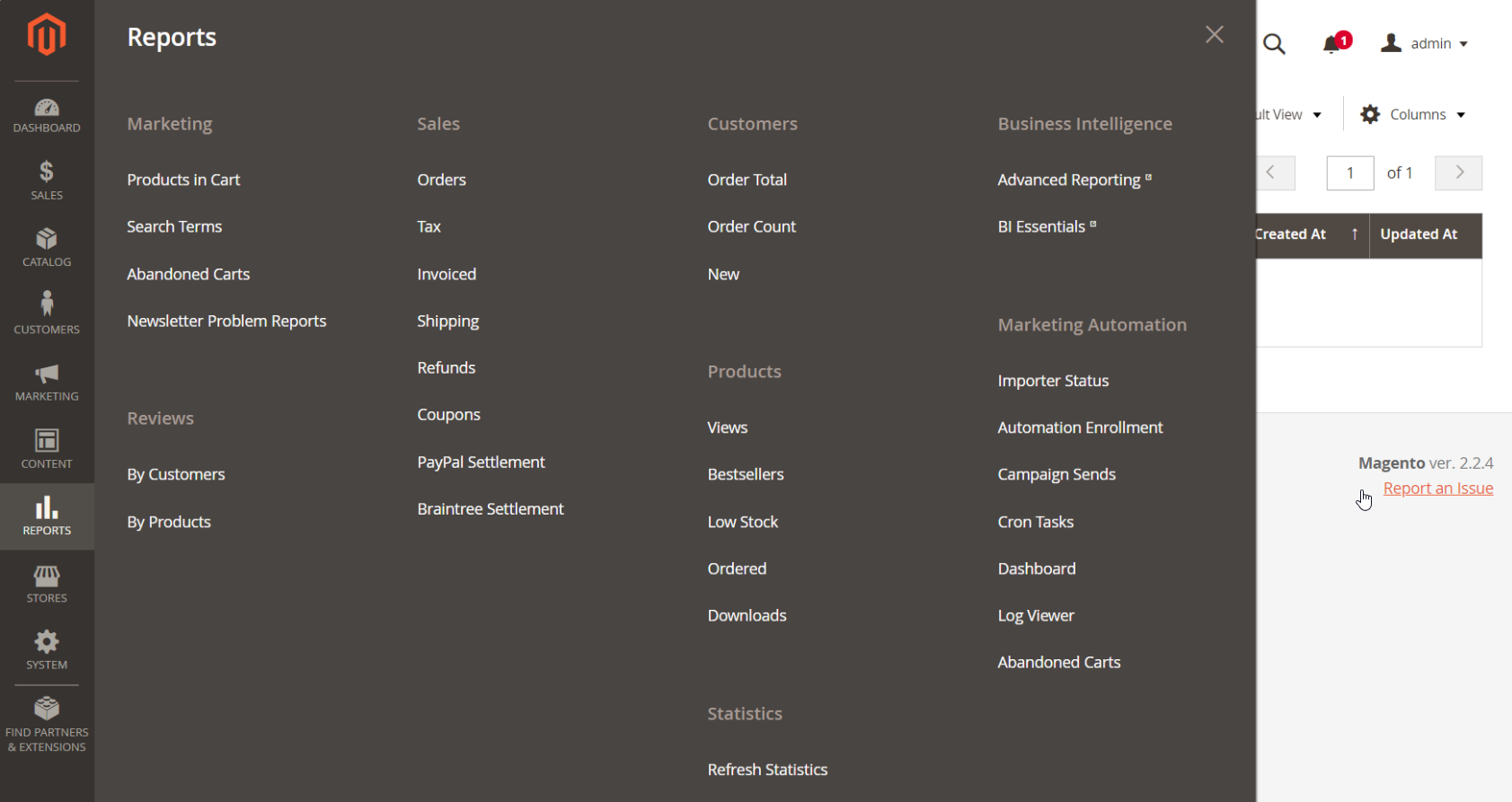 Magento Customers
You can search through all of your current and past customers to manage their orders or set up customer groups that define the discounts available to anyone customer. Within the Customers tab, you can assign customer groups and allow specific discounts for members of those groups. You can also set up newsletters sent to members of different groups that you would like to reach out to.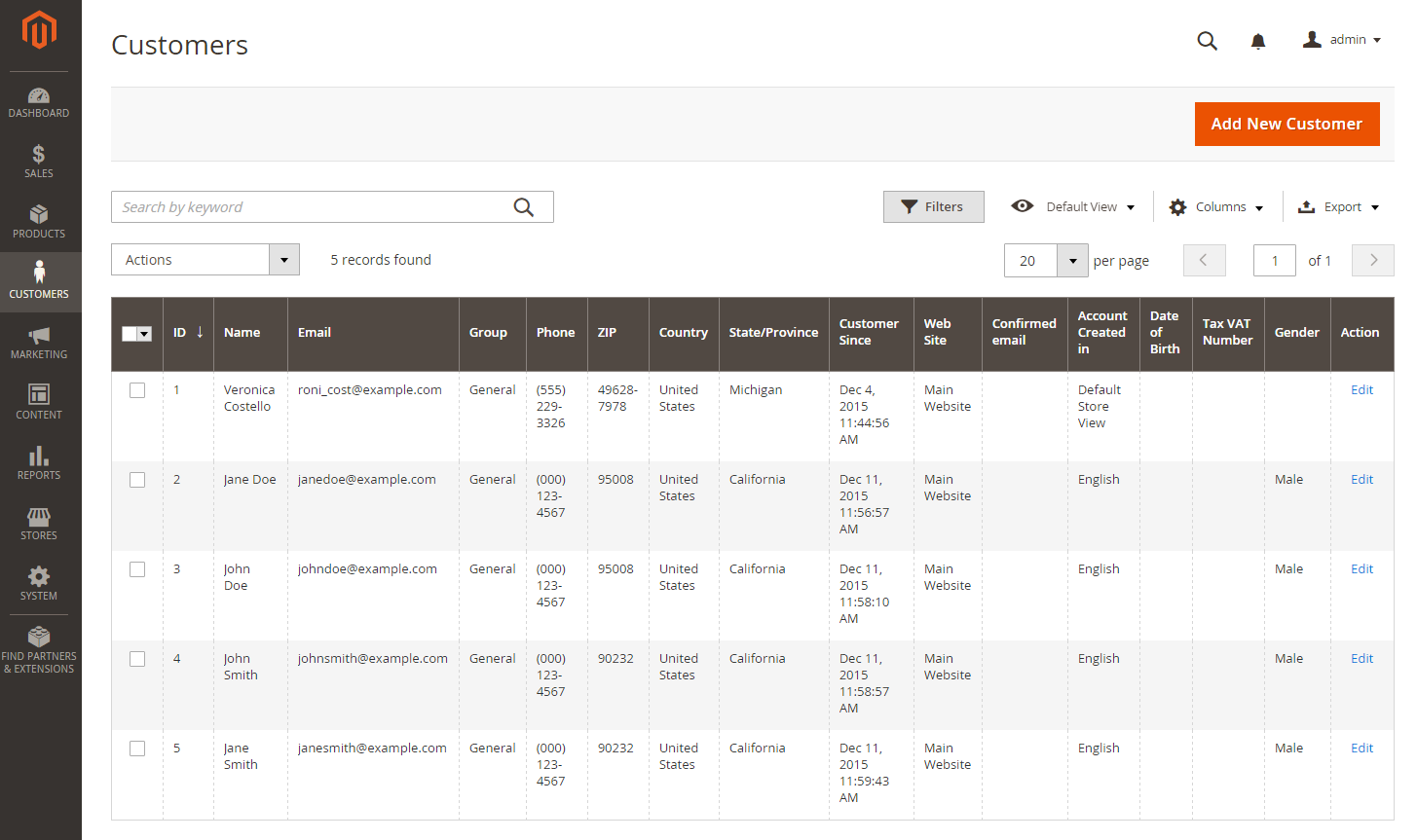 Magento Marketing
The marketing tab will allow you to create price rules that trigger discounts based on various conditions. With these rules, you can set discounts for only your best customers, or you can offer free shipping on purchases over a certain amount. This allows you to easily schedule promotions for specific periods of time and specific products or combinations of products.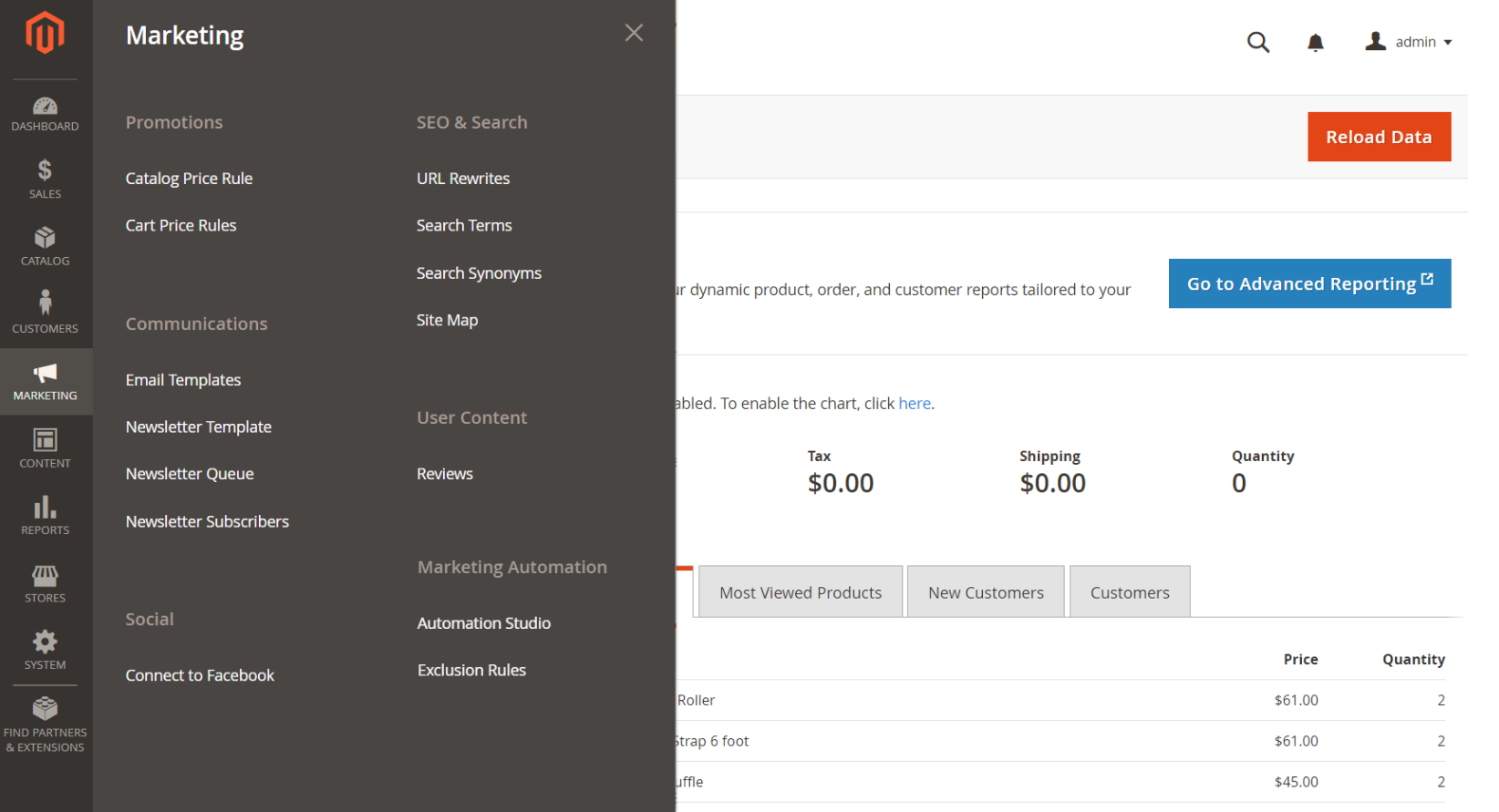 Summary
Magento is a great option for someone who would like a turnkey E-commerce presence. It includes all of the tools that one might need to set up and manage one or more online stores, and the tools are all located in one place. If you would like more in-depth information, then you can find it in Magento's documentation on their website. If you have any questions about setting up Magento at Hostwinds, please reach out to us.