A parked domain allows you to easily have another domain name, either with a slightly different name or a different TLD, to be directed to another site. In WHM, if you have allowed Parked Domains to be created by the cPanel accounts (often referred to as Aliases), you can easily see and Unpark the domains inside WHM.
This guide is intended for Hostwinds clients with a Cloud VPS or Dedicated Server with a valid cPanel license.
Where To List Parked Domains
Step One: Log into your WHM administrative dashboard.
Step Two: From WHM, in the upper left search box, enter "_Account Information_" and hit enter.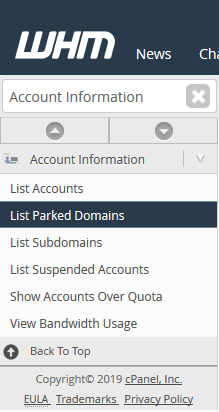 Step Three: In the list of available options, select List Parked Domains, where you will be brought to a page where you can view and unpark domains on the server.

Viewing Parked Domains
On the List Parked Domains page in WHM, it will list each cPanel account that has parked domains and the domains that are parked on the cPanel account.

Primary Domain – This is the primary domain for the cPanel account. Usually, a parked domain will be used to reference the Primary or an Addon domain.
User – The cPanel username for the account with the parked domains.
Parked Domains – All of the parked domains that exist on the account currently.
Action – From here, you will be able to Unpark a specific domain from the server.
Unparking a Domain
If you see some offensive parked domains or do not want to be on the server anymore, you can unpark the domain. This can be done by clicking the "_Unpark_" action next to the domain you would like to remove from the server.
When a domain is Unparked, this means that the DNS for the domain, as well as the domain itself, will be removed from the server. However, the domain can still be added back at a later point.
If the parked domain has been unparked successfully, you will be shown a message similar to the one below,

If the domain were not unparked successfully, there would be an error message displayed. With the error, there will be a button to Show more information. This is good for troubleshooting the error and why it happened with removing the domain.