If you have suspended a cPanel account through WHM or are looking for an easy way to find all of the accounts on your WHM server that have been suspended, WHM offers an easy way to do this. From WHM's List Suspended Accounts page, you can easily unsuspend or even Terminate an account.
Where To List Suspended Accounts
Step One: Log into your WHM administrative dashboard.
Step Two: In the upper left, type in "_Account Information_" and hit enter.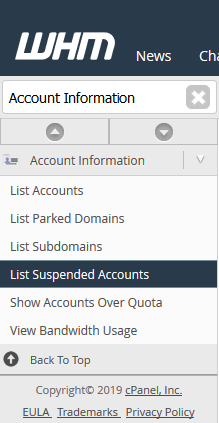 Step Three: From the list of available options, select List Suspended Accounts.

This will bring you to a page where you can view all the suspended accounts on the server and brief details about them.
Viewing Suspended Accounts
With the Suspended Accounts page in WHM, you will see some brief information about each cPanel account that has been suspended. This can help identify an account if you are looking to Unsuspend or Terminate the account for the cPanel user.

Domain – This is the primary domain for the cPanel account that has been suspended.
User – This is the cPanel username for the account that has been suspended.
Owner – If the cPanel account had been created under a Reseller account, this column would show that information. Otherwise, the root will show if the account was created in the main WHM account.
Date Suspended – When the account was suspended, this will keep track of the exact date and time that the account had been suspended.
Reason – If there were no reasons specified during the suspension of the account, WHM would list "_Unknown_" as the reason. Otherwise, it will show the reason here.
Locked – This is if the suspension had been locked when it was placed. With a suspension lock, only Reseller accounts with ALL permission can unsuspend the account.
Unsuspending an Account
Step One: After logging into WHM and navigating to the Suspended Accounts page in WHM, and Unsuspend button will be listed next to each suspended account. Find the account that you want to Unsuspend.
Step Two: Once you have found the account you wish to have unsuspended, click the blue Unsuspend button.

Step Three: After the Unsuspend button has been clicked, WHM will begin unsuspending the account and list the output to you. If all goes well, it should look similar to the following image,
Terminating a Suspended Account
Step One: In addition to being able to Unsuspend, you may also Terminate an account as well. From the Suspended Accounts page in WHM, find the account you want to have Terminated.
Step Two: After the account has been located, click the Terminate button to the right of the account listing.

Step Three: After clicking Terminate on the account, you will be brought to a new page, where it will ask for confirmation of Account Termination. If you are sure you want to proceed, click the red Yes, remove this account button.