Hostwinds VPS, Cloud, and Dedicated Server clients have the option to configure WHM to fit their needs.
Your WHM comes with a free web app called ModSecurity. It helps deal with common attacks, such as trojans, SQL injections, session hijacking, and more. To adjust your ModSecurity settings on a global scale, log in to your WHM account and head to Security Center => ModSecurity Configuration.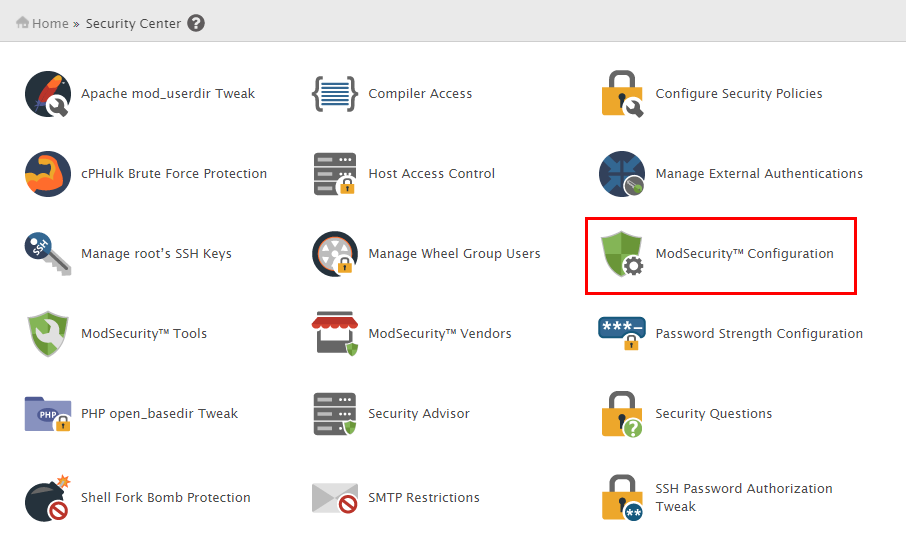 What Settings Can I Change?
On the Configure Global Directives, you'll be given an interface to configure your settings.  Review the list below to see what you can adjust.
Audit Log Level – Change the behavior of the audit engine and for which transactions would be logged.
Connections Engine – Determines the behavior of the connections engine (SecConnEngine), if it should process rules or not.
Rules Engine – Like the connections engine setting, this applies to the rules engine(SecRuleEngine) and if it should process the rules.
Backend Compression – This setting allows disabling of backend compression while leaving the frontend compression enabled for use.
Geolocation Database – Here, you can specify a path to the Geolocation database that you will be using. By default, this will be blank.
Google Safe Browsing Database – Similar to the Geolocation Database, though this applies to Google Safe Browsing. This is blank as well.
Guardian Log – This allows you to set an external program to pip the transaction logs to for additional analysis.
Project Honey Pot http: BL API Key – You can specify your API key for use with the @rbl operator.
Perl Compatible Regular Expressions Library Match Limit – Specify the match limit of the Perl Compatible Regular Expressions library. Bydefault, this will be 1500 (even if left blank).
Perl Compatible Regular Expressions Library Match Limit Recursion – This is similar to the option above, except this affects the Match Limit Recursion for the same library.
If you should have any questions or would like assistance, please contact us through Live Chat or by submitting a ticket with our Technical Support team.