Along with the Graphical Statistics page in your SHOUTcast control panel. The Live Statistics page can also provide insight into how many listeners you are getting on your station. The Live Statistics page shows a basic overview of what is happening right now on your station. This guide will show you how to locate that page and the types of information found and used on that page.
Where To Find The Live Statistics Page
These steps assume that you have a SHOUTcast server hosted with Hostwinds or a server with WHMSonic installed.
Once logged in, you will want to navigate the left Sidebar to find the Online Stream & Listeners Status. This should be located within the Account Functions section.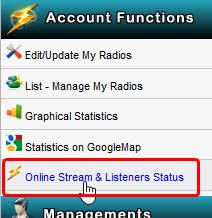 Clicking on that link will take you to the Live Statistics page, where you can view how many listeners you have and basic information about your server at that moment.
What Do The Live Statistics Mean?
At first glance, it may not look like a lot to offer. However, Live Statistics can be handy. Especially if used in conjunction with the Graphical Statistics page. This Live Statistics page is organized into 2 sections. The upper section describes some basic information, such as how many Listeners are currently listening to your station. Then there is the bottom section that shows the last 20 songs to have been played on your station. Here is what this page may look like for you;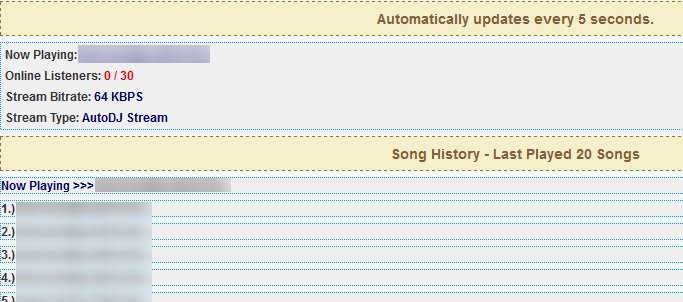 Now Playing – This will display the current song or file that is playing on the SHOUTcast station. Since this area will update every 5 seconds, it is accurate to what is being sent to your Listeners.
Online Listeners – This will show you how many listeners you currently have Listening to your station and the maximum that you can have. The maximum can be increased by upgrading your SHOUTcast plan.
Stream Bitrate – The is the number of bits that are being transferred to your listeners. This can also be thought of as the network speed. Usually, the lower this value is the increased chance of buffering with your Listeners. This can also be increased by upgrading your SHOUTcast plan.
Stream Type – This will display the current type of your stream. For example, the image above it shows AutoDJ Stream. This means that there is currently AutoDJ streaming on the station for your listeners.
Song History – This is a useful section, especially when looked at with a daily chart on the Graphical Statistics page. Here you can see when your listeners are starting to leave and join your station. It will show up to 20 of the last played songs or audio files on your station.
If you should have any questions or would like assistance, please contact us through Live Chat or by submitting a ticket with our Technical Support team.