With having multiple accounts on your WHM Server, you may want to keep track of the bandwidth usage of each of the cPanel accounts in case you see that a large amount is originating from your server. This can easily be checked within WHM's View Bandwidth Usage tool.
Where To View Bandwidth Usage
Step One: Log into your WHM Administrative dashboard for the server.
Step Two: While logged into WHM, enter into the Search box 'Account Information and press Enter in the upper left.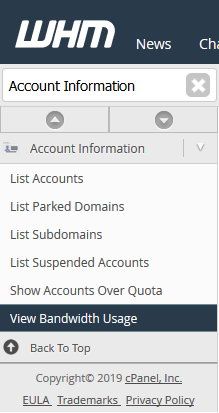 Step Three: From the available options, select View Bandwidth Usage. This will bring you to a page where you get a brief overview of each cPanel Account's bandwidth usage for the month.

Viewing The Bandwidth Usage
While you are on the View Bandwidth Usage page in WHM, you will see a list similar to the following that will cover the bandwidth usage per cPanel account.
User – The cPanel username for the account is listed.
Domain – The primary domain on the cPanel account
Xfer – This is the bandwidth usage for the selected month, based on the selected units. cPanel will default to Best Fit, which will change the Units according to the amount used.
Limit – This is the bandwidth limitation set for the cPanel account.
Usage – If there is a limit, this will show a progress bar in comparison to how much bandwidth has been used on the cPanel account and a percentage to give a better idea.
Below the list of cPanel accounts and their bandwidth usage, a legend describes some of the icons and color-coding presented in the list.

For the cPanel accounts that are reseller account (with the ability to create cPanel accounts), you can click the little Checkmark next to the user to show only the accounts created under that reseller.
If there are subdomains or additional domains on the cPanel account, you can click the Plus icon next to the domain name to view only those domains and their bandwidth usage.
Changing Displayed Units
While using the Best Fit option for the Units shows a more human-readable value, you can also change the units to be displayed in Strict Megabytes. This can make it easier to compare all of the bandwidth usages on the server if the Best Fit option changes some options to be different. This can be done by clicking the Show Units in Megabytes using Best Fit and Show Units with Best Fit if you are currently viewing in Megabytes.

Overall Bandwidth Usage
To view all of the bandwidth usages on the server as a whole, there will be a box with the Total Bandwidth Usage for the server towards the bottom of the View Bandwidth Usage page.

Changing Time Frame
You also have the ability to change the month that you are viewing the bandwidth usage for. This can be helpful if you are looking for historical increases in bandwidth usages on an account. To do this, from the top of the page, there will be links to view either the Last Month or the Next Month (if viewing a month before the current month)