There are many different use cases and tools for running virtual machines within a host server. For example, common virtual machine host software, such as VMware, SolusVM, etc., could be used for configuring and running virtual machines off a host server.
For the servers here at Hostwinds, only our dedicated servers would be a viable option as a host server. This is because VPS in and of themselves are already Virtual Private Servers, and to run a virtual machine within it would be nested virtualization. In general, nested virtualization is not recommended, and on our VPSs, it cannot be supported.
If you need to create your own virtual machines on a Hostwinds server, that would require a dedicated server. And even then, you would need to make sure the CPU of the dedicated server supports virtualization.
Please connect with us via Live Chat if you would like to know all the CPU details of the different dedicated server models. Then, in the CPU models' table, there is a link to the manufacturer's page for that CPU model. From that page, you'll be able to check that virtualization technologies are available for that CPU model. An example of this can be seen in the screenshot below: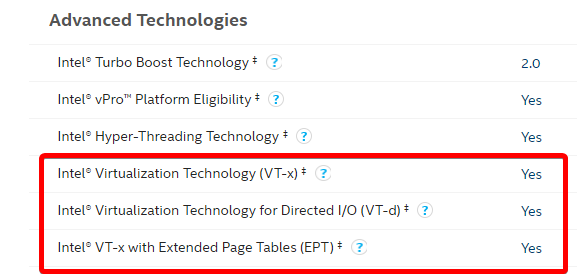 It is important to note that any licensing will need to be in place to utilize certain virtualization technologies if required. This may be provided to our support team once your server is ready for use by opening a ticket to our support team if you decide that using virtualization technology is something you would like to pursue on your Hostwinds Dedicated Server.