In today's world, technology is changing rapidly, which is especially true for the cloud. With all these changes, it may become difficult to determine what hosting products fit your needs. Whether you're just beginning your journey to host your first website or looking to move your business elsewhere, there are many things to consider. Hostwinds objective within this blog is to help our customers ask the right questions and point out what makes us stand out from the rest.
Determining Your Hosting Requirements
Understanding your hosting requirements may be easier said than done before investigating any hosting options. However, it is a good idea to ask yourself what your overall goal is and what you wish to accomplish. For example, customers who want to start a blog website will have different requirements than someone who wants to transfer their entire game server. What if your business will need to scale or need to host other applications in the future? Hostwinds sells multiple packages tailored to an individual's needs. We will always do our best to point our customers in the right direction.
The following list is helpful questions to consider before picking a hosting package at Hostwinds.
Will I require a web hosting control panel (CRM)?
Do I need root-level access to my server?
Is sharing a server an option, or do I want my own allocated hardware?
Will my business grow, and will I need to scale?
These are just a few of the questions to ask before moving on to other essential questions.
How Does the Hosting Providers Support Communicate?
What is the support like at the hosting provider? Clarifying what hosting support means at the hosting provider should be investigated first in Hostwinds opinion. After all, this is how you will communicate with the company should you ever have a question or concern. Consider the following questions when it comes to hosting support.
How quickly can I talk to someone in the company?
What methods does the company use to communicate?
How knowledgeable is the staff, and do they delegate efficiently?
Are they available 24/7, 365 days a year?
Hostwinds continually reviews the market and considers our support superior to other hosting providers. Long wait times, inefficient communication, and slow results can be beyond frustrating. That is why Hostwinds offers immediate contact with our web-hosting agents in Live Chat immediately. Hostwinds agents are not robots and are available to talk to at any time. Launch our website and click on the chat window in the bottom right; it's that easy! Our agents provide helpful answers and quick delegation if needed to the correct departments for rapid results.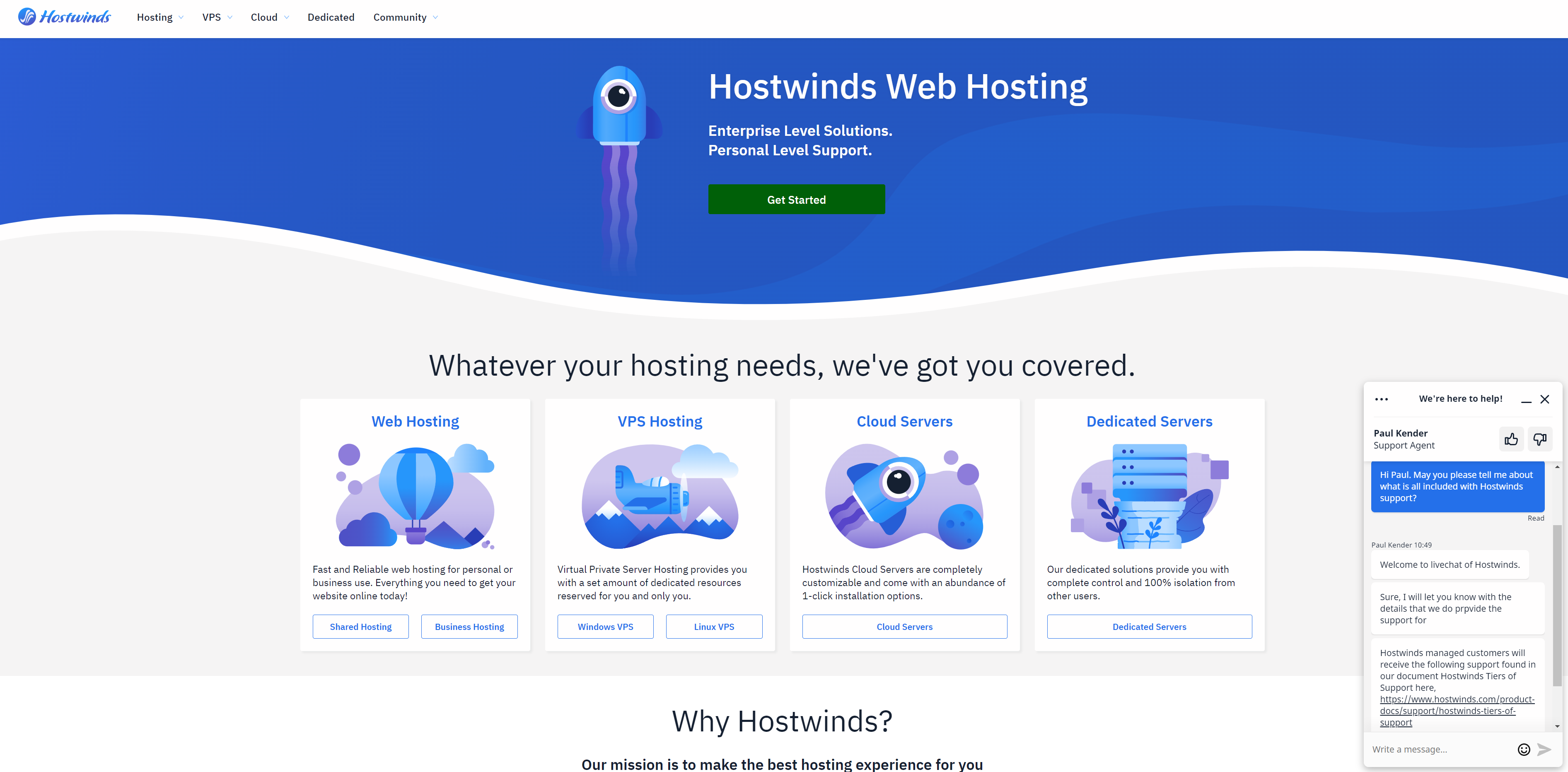 Hostwinds also uses departmental tickets to communicate with our customers effectively. We use a ticketing system for multiple reasons. Tickets allow our support to be organized, focused, efficient and effective for our customers. Hostwinds customers should never have to worry about communication problems. We manage our communication in a way that provides precise details that result in fast resolutions.
Additionally, Hostwinds support includes multiple features for our customers. These options range from setting up server requirements, troubleshooting hardware failures and more. Our Tiers of Support product documentation outlines what our customers can expect from our IT professionals. Hostwinds believes in going the extra mile and enjoys including these support perks at no additional cost to our managed customers. Our support works every hour of every day, providing superior service when our customers require it.
What is All Included in the Hosting Package?
Hosting customers should always investigate all of what is included with their hosting package. Every hosting package is different, and it is essential to understand everything you will receive. We just covered the support above. However, customers should understand what additional features and tools their product will provide them. Consider the following questions when it comes to an understanding your product's characteristics.
Does my product come with a dedicated IP, or is it a shared IP?
Will I be provided root access to control my server fully?
What operating systems can I install?
What applications can I install?
How much hardware will my server have, and what happens if I ever need more?
How secure is my product over the network?
Hostwinds includes multiple packages tailored for a range of customers that have different needs. As we understand everyone's needs are different, we made efforts to advertise what each package includes on our marketing website. Each product helps our customers understand what to expect up front. For example, our shared hosting customers notice these products have the latest cPanel and Softaculous AutoInstall. Hostwinds Linux customers will find they can install multiple applications, including custom ISOs. Not all hosting companies provide an assortment of additional perks like Hostwinds.
Extra Questions To Consider Asking Your Hosting Provider
There are many questions that a customer can ask a hosting provider before taking their next steps. Although customers may have specific questions, Hostwinds would like to address other qualities that customers should consider in our opinion.
What physical locations does the hosting provider offer?
How secure are their data centers? Do they have T4 or T3 ratings?
How fast is their network?
Do they own their products?
What kind of hardware do they use?
Does their infrastructure include hot-swappable drives in the event of hardware failure?
Do they offer backups?
How good are their reviews?
The list can go on and on. However, we have included questions we would want to ask ourselves. We offer multiple locations for our customers to pick where they would like to host their content. Hostwinds customers will find our data centers in Dallas, TX, Seattle, WA, and Amsterdam, NL. Each of our data centers is either a T4 or T3 rated facility, which involves a highly secure and certified environment. Our customers can relax knowing their hardware is safe and only touched by Hostwinds professionals.
Hostwinds owns all of our products and hardware outright. Many hosting companies use third parties to manage their services and pass the cost onto their customers. We think the opposite way of our competitors. Hostwinds has reduced prices by cutting out the middle man. We additionally can directly manage our hardware, saving our customers precious time. All of our disk storage across our infrastructure includes quality solid-state drives. These improve efficiency and quicker processing for our customer needs. Lastly, all of our infrastructure servers are hot-swappable. Hot-swappable means we can exchange a faulty drive without bringing the server physically down itself. Performing a drive swap while a server is running extends uptime to our customers.
Hostwinds encourages our customers to scour the web for reviews about us. We maintain a 4.5 to 5-star rating amongst multiple hosting review boards. Hostwinds believes these are a reflection of our commitment to our customer base. Reviews are essential, and we constantly research them to challenge our goal of providing the best hosting experience one can provide.
Pricing
We included this question last because we believe there is so much more to it. However, we understand that pricing is the most critical factor. Although some hosting providers may include cheaper hosting options, we hope customers will consider everything involved. Hostwinds provides amongst the most competitive pricing, especially when you think about what we all have.
We hope that customers will consider these questions when making an important decision about their hosting provider. Hostwinds wants our customers to know that we care and listen. We understand there are multiple choices to pick from, and we appreciate all those who trust us with their hosting needs. Our customers are family, and we constantly work to ensure their hosting requirements are fulfilled.