Hostwinds offers several options to help make building your website quick, simple, and very easy. In addition to our Softaculous Apps Installer (which can install services like WordPress, Magento, Drupal, Joomla, and more), we also offer Weebly so you can build your website. Weebly is a drag-and-drop website builder that lets you build your own site with little or no coding experience required.
It is important to note that the information provided in this guide is for informational purposes only. The premium features and changes made after the time writing this guide may be different and will be displayed to you in your Weebly account when editing your site through Weebly. Please open a ticket with our Support Team if you have any questions to help.
Weebly's Settings can be customized to fit the needs of your site. In this article, we'll go over the SEO tab in your Weebly Settings, discussing what every option is and how it affects your site.
Accessing SEO Settings
To access your SEO settings, follow these steps:
Step 1: From your cPanel, select Weebly.

Step 2: Click on the Edit button to select the site you wish to edit.

Step 3: Select the Edit Site button on Weebly to edit the site in question.

Step 4: At the top of your Weebly panel, select the Settings option.

Step 5: On the lefthand of your Weebly panel, select the SEO tab.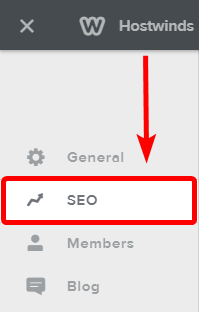 SEO Settings
Site Description
The site description is where you describe your website for the search engines. Keywords are sometimes scanned from the site description, and it is also shown during the search results as the blurb under your website.

Meta Keywords
This field is for putting in all the keywords that match or describe your website or its content in as few words as possible, separated by commas for each keyword.
For example, a car website might have the following keywords: car, cars, automobiles, car site, car blog, auto.

Footer Code
This is where you place the code for certain footer elements, such as the Google Analytics tracking code.

Header Code
The header code is where certain widgets or codes are input for your search engine optimization, such as the Google Webmaster Tools verification meta tag.

Hide Site from Search Engines
This is an option you can toggle on or off to determine if search engines will index your site. When it's grey, this means your sites will be indexed and ranked on search engines. When it is activated, it will hide your website from being scanned by search engines.

301 Redirects
This section allows you to add any redirects to the links on your website. For instance, if you had a link that read example.com/info and you now have that information at info.example.com, you can set a 301 redirect to point the old link to the new one.