Before you can start jamming out to tunes or enticing your Listeners with your own podcast or radio station, you will first need to upload your audio files. There are a couple of ways that this can be done. You can either upload the files to your SHOUTcast hosting via FTP or directly in the SHOUTcast Control Panel. This guide will show how you can upload your files through FTP.
How To Upload Music Via FTP
These steps will assume a basic knowledge of FileZilla, an FTP client that can be used to transfer files to and from your Hosting plan.
Start by opening up the FileZilla application or your preferred FTP client.
Once open, you should be prompted to enter a Host, Username, Password, and Port.

For the Host, you will put in the IP address for your SHOUTcast Hosting, the login username and password for your Hosting and Port. You can just put 21 into this. This information can be found in your SHOUTcast Control panel if you are unsure or forgot.
To find these in the SHOUTcast Control Panel, click on the Edit / Update My Radios link in the Menu under Account Functions.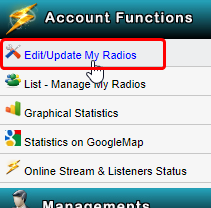 From the next screen, you will want to dismiss the window that automatically pops up. This will show information about your Radio station. The cPanel username is the username you used to log in to your Control Panel and can be used for FTP. The Radio Password is the password that can be used for FTP. Radio IP is what you will want to use for the Host in your FTP Client.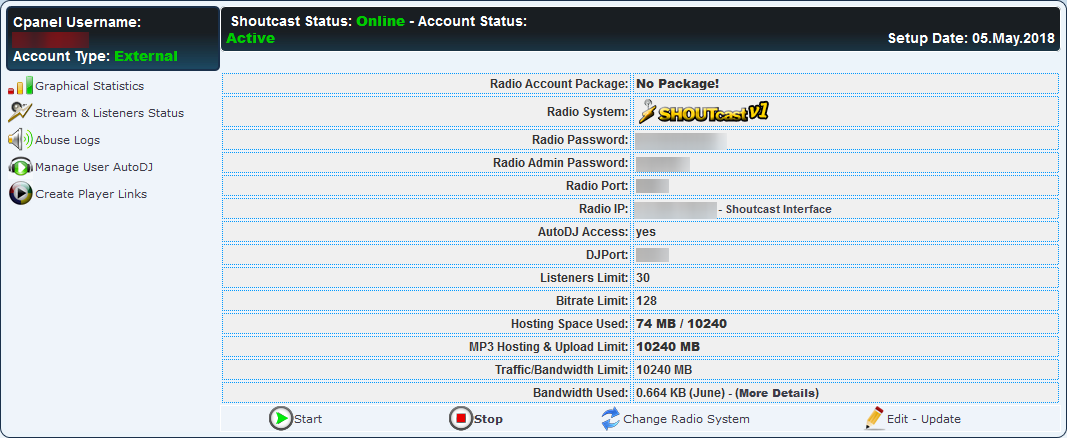 After clicking on Quick Connect, you will be able to see the SHOUTcast Stations files. You will want to upload the files to the folder for the corresponding Playlist. You can create Playlists following this guide here.
If you should have any questions or would like assistance, please contact us through Live Chat or by submitting a ticket with our Technical Support team.