With Hostwinds Shared or Business Hosting services, we offer many options to help our clients build their websites easily. In addition to our Softaculous Apps Installer (which can install services like WordPress, Drupal, Joomla, and others), we also offer Weebly. Weebly is a drag-and-drop website building tool that allows you to pick a starting theme and modify it however you desire with little or no coding experience required.
It is important to note that the information provided in this guide is for informational purposes only. The premium features and changes made after the time writing this guide may be different and will be displayed to you in your Weebly account when editing your site through Weebly. Please open a ticket with our Support Team if you have any questions to help.
Weebly's Settings are also very flexible and can be set up the way you desire. In this article, we'll go over the Members tab in your Weebly Settings, discussing what every option is and how it affects your site.
The Membership registration and management services for Weebly require a Pro or Business Weebly account.  Hostwinds provides the Connect Weebly account for free as a part of our hosting packages but can assist in upgrading your services.  Should you have questions or concerns, please contact us via email to sales[at]hostwinds.com, via a ticket to Sales, or talk directly to one of our 24/7 LiveChat Agents, and we are always more than happy to help you.
Accessing Members Settings
To access your members' settings, follow these steps:
Step 1: From your cPanel, select Weebly.

Step 2: Click on the Edit button to select the site you wish to edit.

Step 3: Select the Edit Site button on Weebly to edit the site in question.

Step 4: At the top of your Weebly panel, select the Settings option.

Step 5: On the lefthand of your Weebly panel, select the Members tab.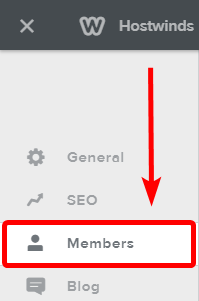 Members Settings
Login | Register
This section allows you to determine whether there is a visible link on your website for users to log in to their accounts if they are members. You may also separately choose whether you not you want users to be able to sign up and register for your website.

Members
The Members section lets you add new users to your website, who can then view any restricted or private pages that they have permissions for.

Groups
Here you can create and manage groups that can have members assigned to share the same permissions and level of access. In this way, you do not need to manually manage all of your users and instead have them gain the permissions provided to the group as a whole.