One of the many features Hostwinds shared and business hosting clients have when using Weebly as their website builder is the built-in store feature. Weebly allows easy creation of a Store and products to get you started selling sooner rather than later. Weebly can manage the Information about your Store, Products that you Offer (Digital or Physical), the payment methods you accept and receive payment through, the Shipping rates and rules that you have, as well as the Taxes on orders. With a Premium version of Weebly, you also have the ability to Utilize Coupon codes for your site. Let's cover all of this in this article.
It is important to note that the information provided in this guide is for informational purposes only. The premium features and changes made after the time writing this guide may be different and will be displayed to you in your Weebly account when editing your site through Weebly. Please open a ticket with our Support Team if you do have any questions so that we can help.
Where To Find The Store Settings
Step One: Login to your cPanel
Step Two: Navigate to the Weebly Application from your cPanel

Step Three: From the title bar at the top select Store from the list.

Step Four: Clicking on the Store option will bring you to a new page where you will be able to manage the aspects of your Store built with Weebly.
What Can Be Modified In The Store Settings
When on the Store options page, there will be a few options for what can be changed in the Store on the left side of the page. This includes tabs for Overview, Orders, Coupons, Products, Store Emails, and Setup.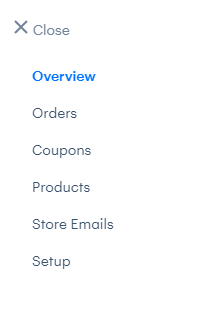 Overview Tab
This tab will show some steps to complete for getting started in setting up your Store with Weebly. These steps are a great starting point for getting your store up and running so that you can focus more on sales than the Technical Aspects.
Each step will have a link directing you to the proper place to complete the task or input the information.
The Add Store Information will send you to the Setup tab to complete some information about the store.
Add a Product will bring you to the Products tab, in which you will be able to add a product to your store.
Clicking on the Start Accepting Payments task will bring you to the Checkout Sub tab of Setup.
Taxes would be under a Subtab of the Setup as well, where you can set up Tax Rates.
Do keep in mind that Taxes is a premium feature that does not come standard with the basic version of Weebly. As for publishing the site, this would not go to a Store tab. However, it would publish your main Weebly site that you have designed.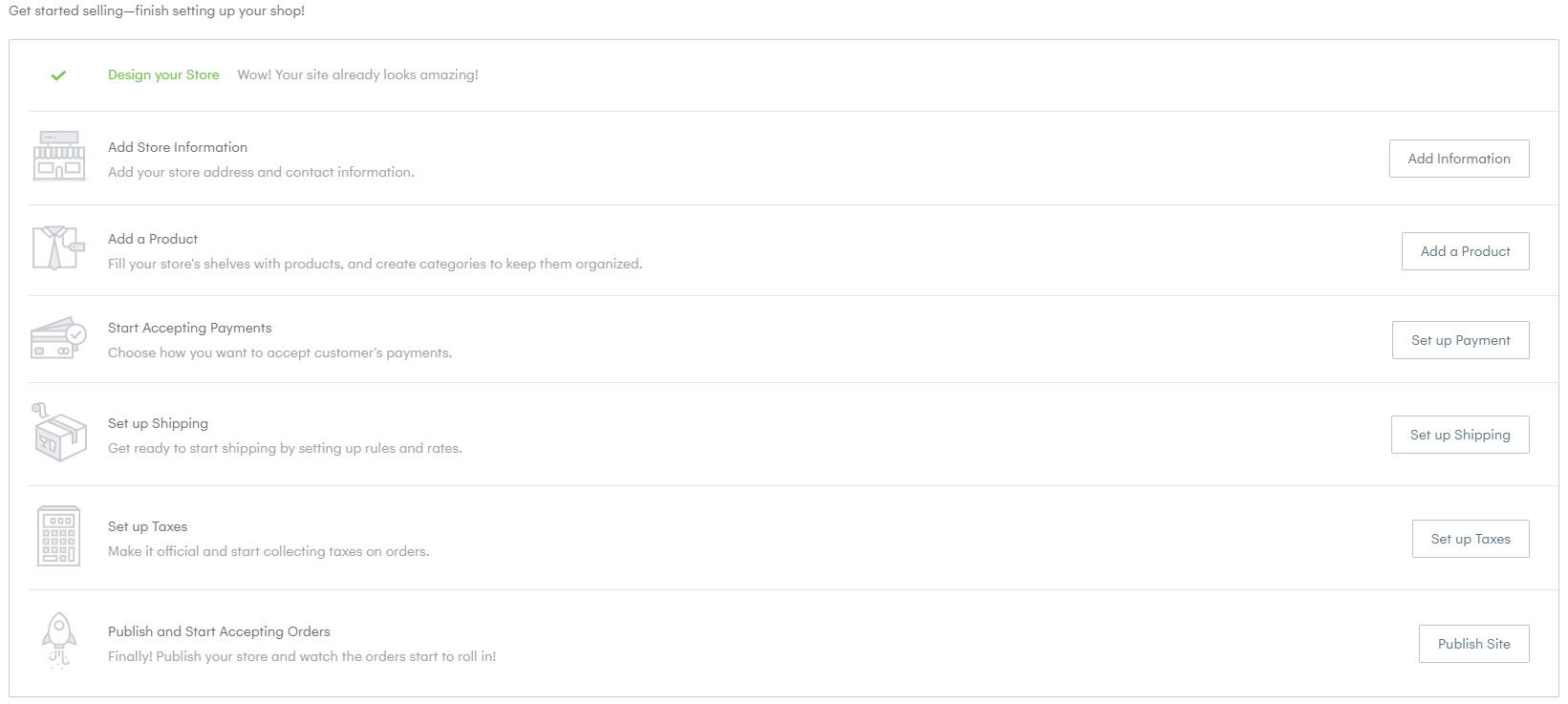 Orders
In the main Orders tab, you will be able to view any orders that have been placed through your Store.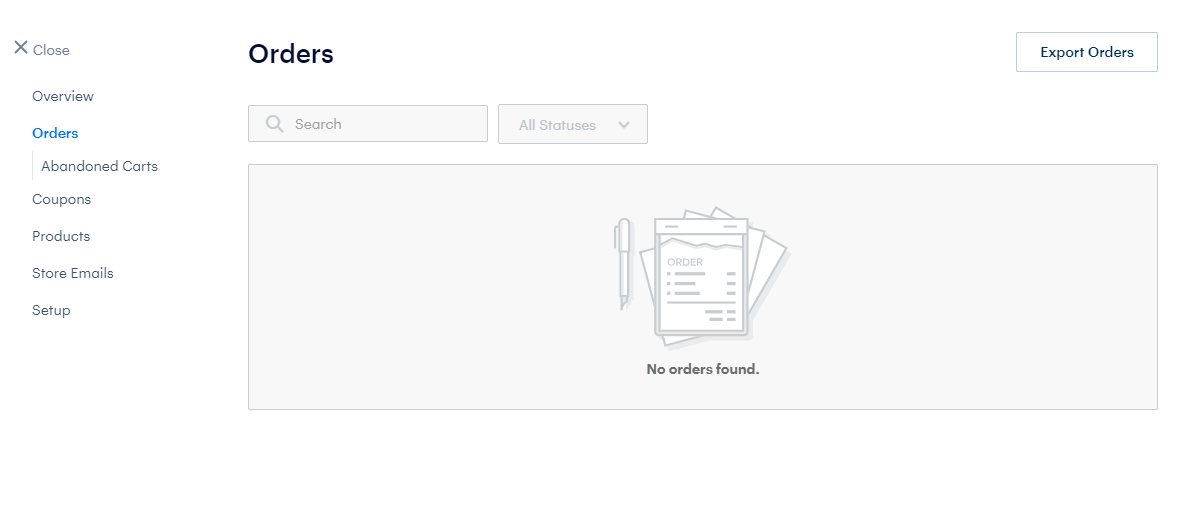 Abandoned Carts
Under the Abandoned Carts sub-tab, you will be able to view the carts that have been abandoned. Or when a customer leaves with items that have not been purchased yet still in their cart.
To utilize this feature does require an upgrade of your Weebly, as this is not included with the Free version of Weebly.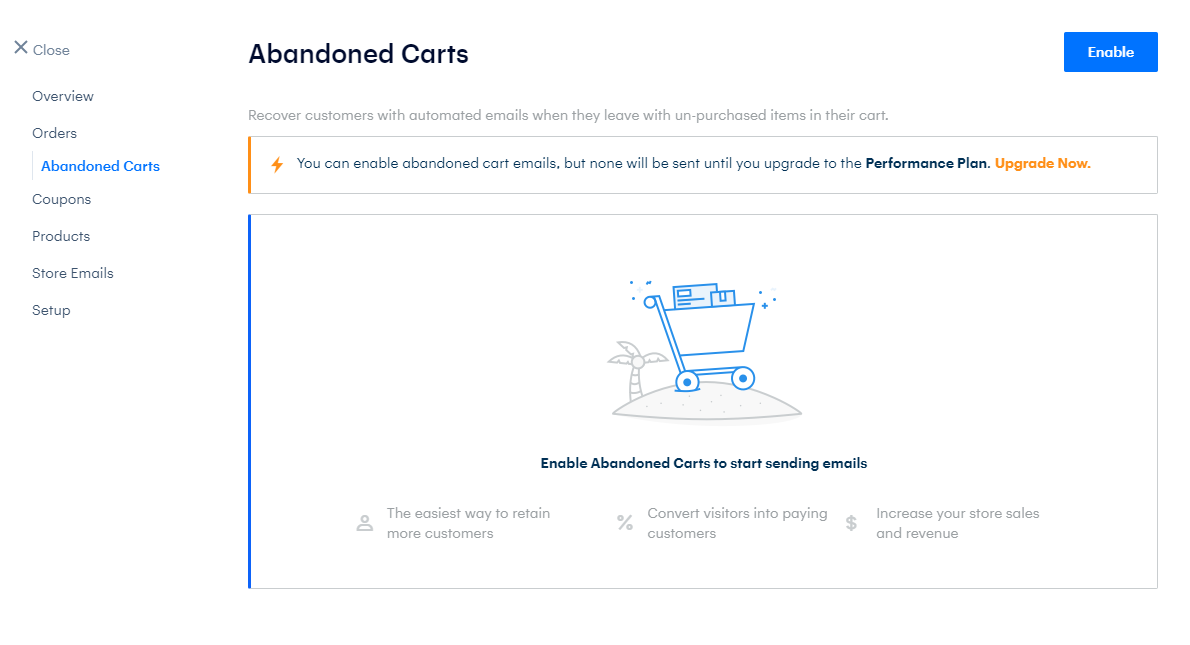 Coupons
In the Coupons tab, you will create and set up Coupon Codes that can be used for purchases made through your Store.
This Premium feature can only be used if your Weebly is upgraded to the Business plan.

Products
Under the Products tab, you will have the ability to create Products to be sold in your store. You can also easily manage the Products here as well, removing and adding them as necessary.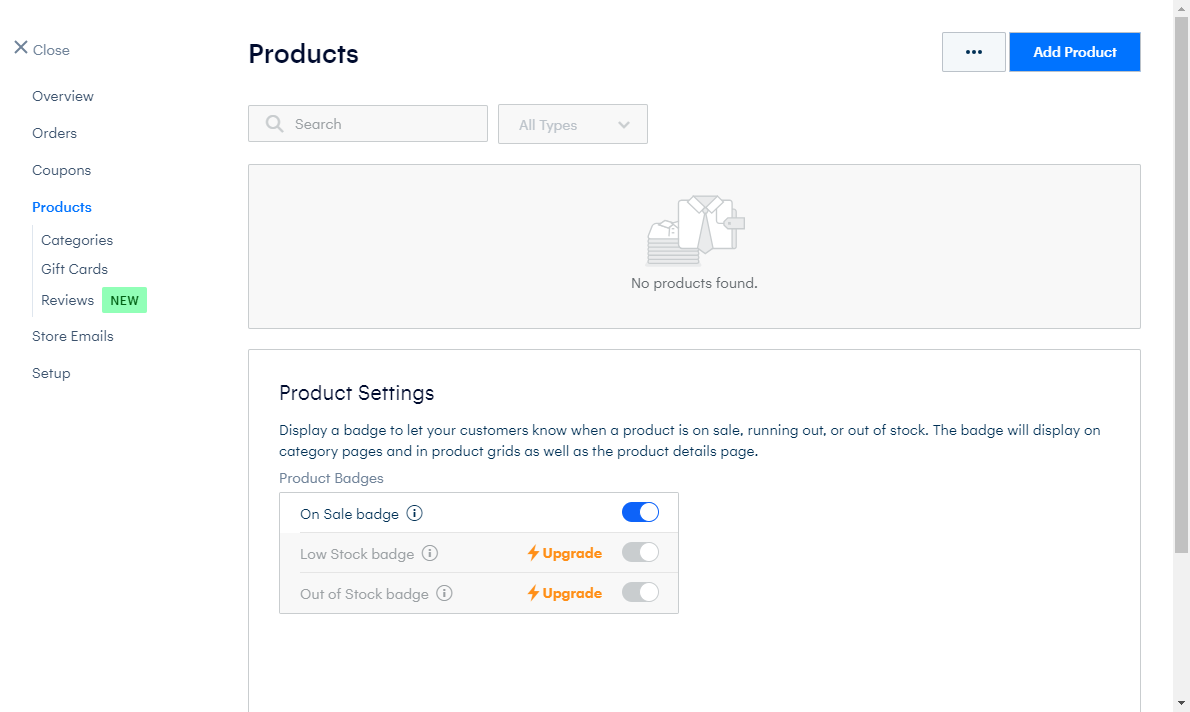 Categories
A neat feature as a part of the Weebly store is the ability to create Product Categories. This allows you to easily sort your products so that they can be more easily identified. For example, you might want to group up Shirts and Pants in different categories with an online clothing store.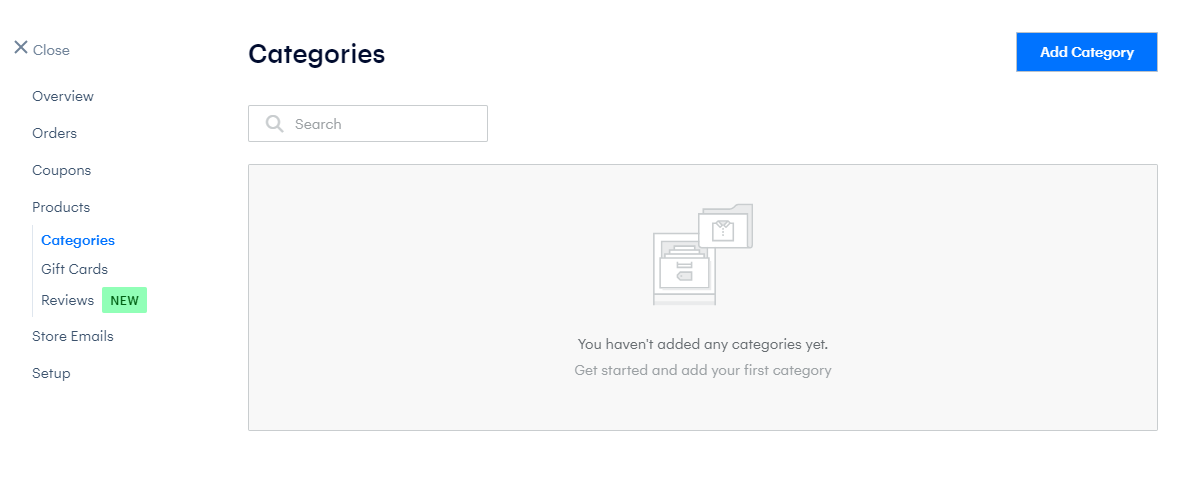 Gift Cards
With the Gift Cards, you can generate Gift Cards that can be delivered to customers to use in your store.
This feature is only available to Premium Versions of Weebly.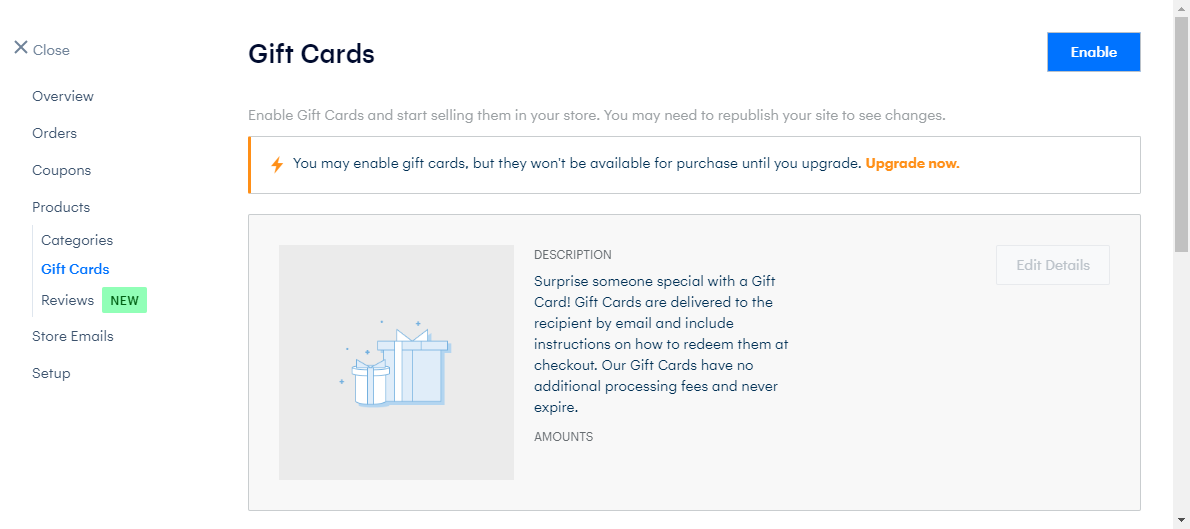 Reviews
A recently added feature to the Weebly Store manager is the ability to have Product Reviews. This allows your customers to leave reviews about your products so that you can get valuable feedback on your products and increased sales.
This feature is only available to Premium Versions of Weebly.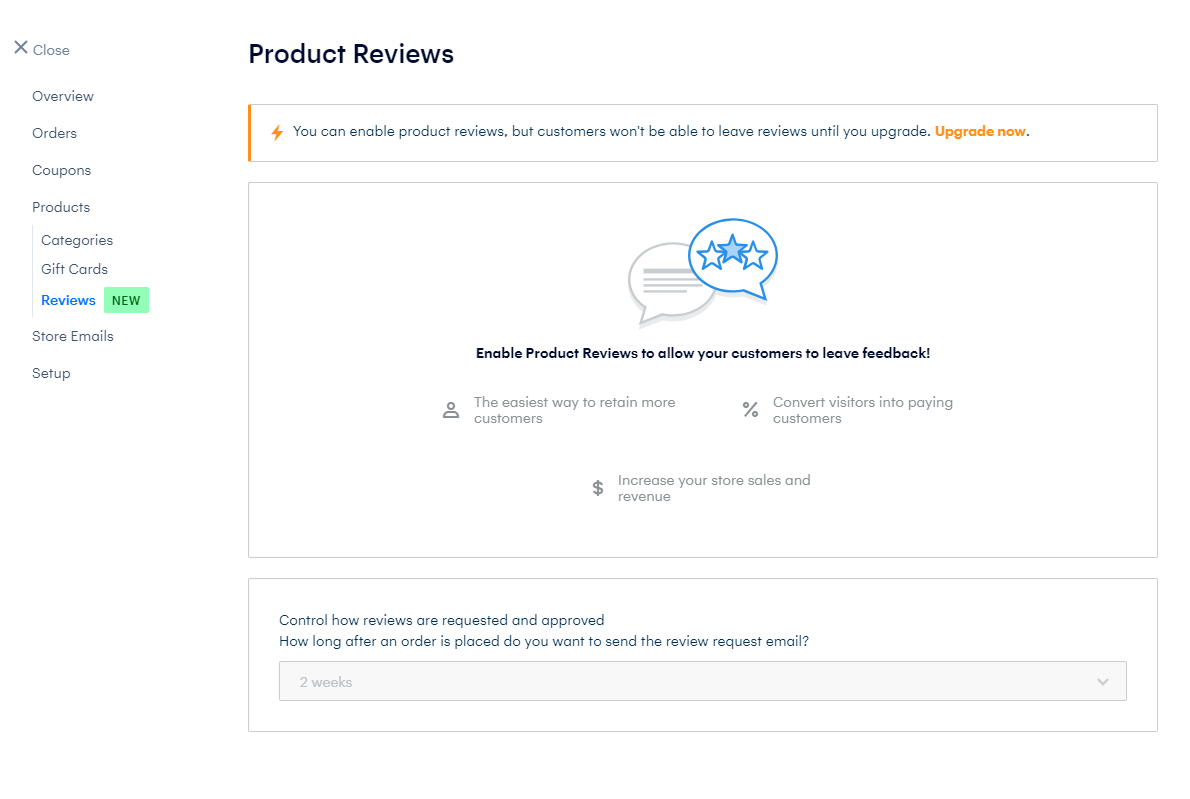 Store Emails
In this tab, you will be able to modify the emails sent to your customers when particular events happen. The Sender Profile allows you to edit where the emails will be sent if the customer replies to the email. The Order Notifications allows you to set an email address that is sent an email whenever an order is received. Under Email Previews, you can modify the emails that are sent.
Abandoned Cart – Allows the emails for when a customer leaves a cart with unpaid Items. Requires a premium version of Weebly.
Gift Card Sent – This allows modification of the email sent for Gift Cards. Requires a premium version of Weebly.
Order Confirmation – This is for the email sent to your Customer just after they have completed an order.
Items Shipped – This is sent to your Customer when the items they purchased have been shipped.
Items Refunded – Allows modification of the email sent when your customer has been refunded.
Items Cancelled – The modification of the email sent to your customer after an Item or Product for their order has been canceled.
Product Reviews – This is the email that will be sent to your client after they submit a review for one of your products. Requires a premium version of Weebly.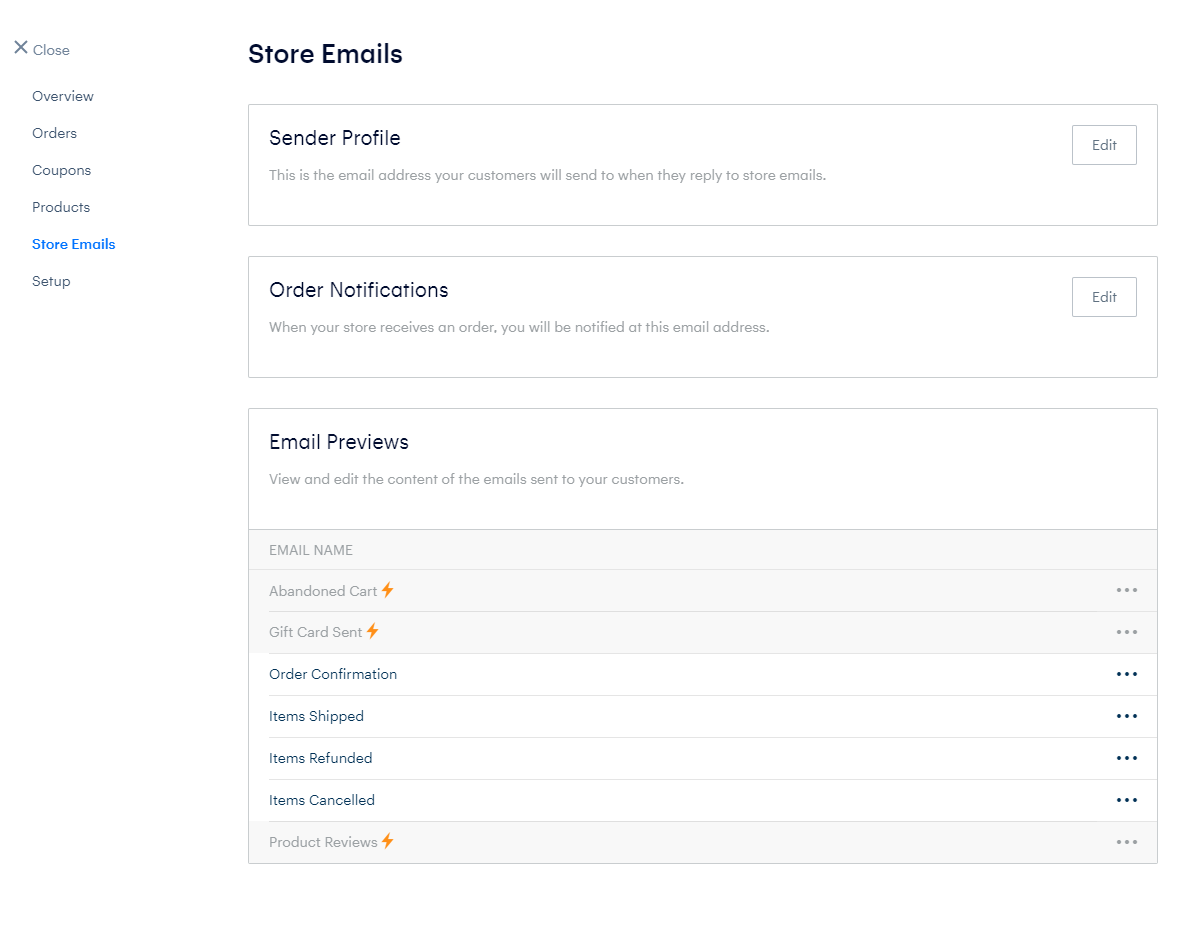 Setup
In the main Setup tab for the Weebly Store, there is the ability to set the Store Information, General settings for the Store, Layout for your store, and Tracking.
In the Store Information section of the Setup, you can enter the Company Name and contact information. This contact information will appear in customer receipts after they have completed an order.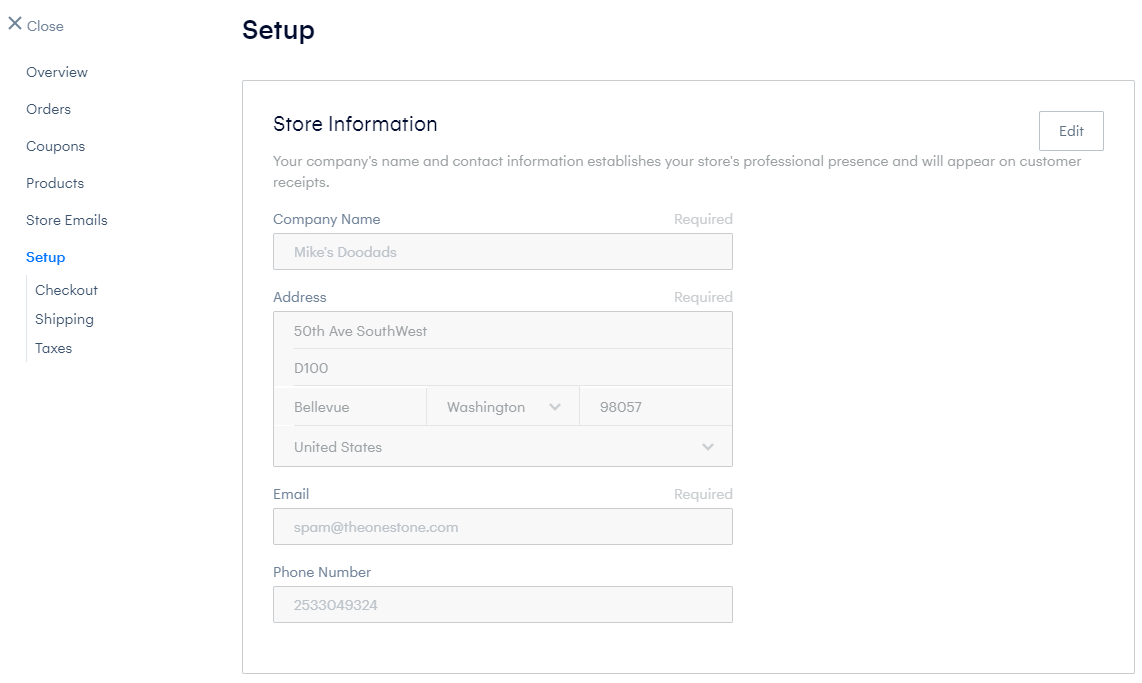 The general settings that can be modified are the Currency that your shop uses, the Units (Measurement type), and the Purchase mode for your Store. You can set to have a cart by selecting the Add To Cart Option, or have them buy one product at a time by selecting the Buy Now option.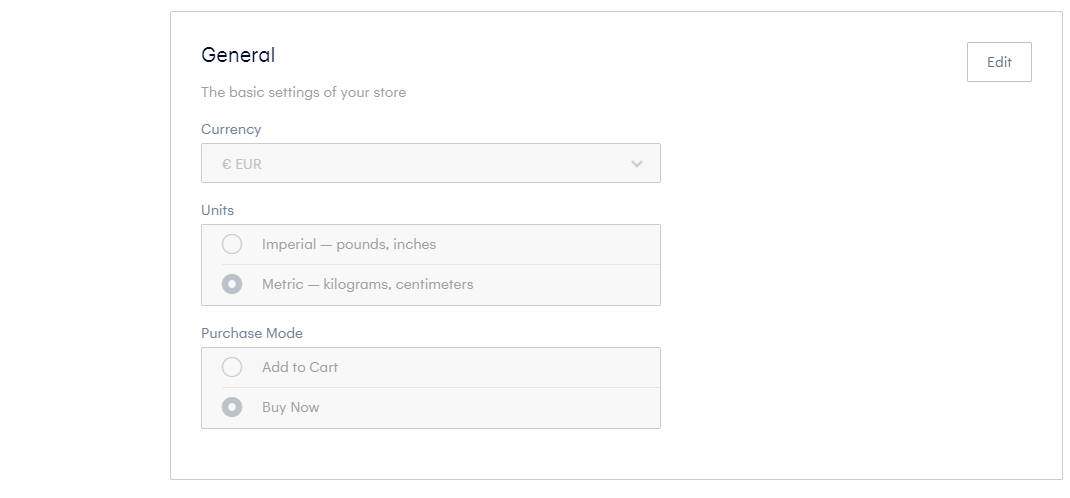 With the Layout section, you can customize how products will appear on a Categories page. Changes can be made to the Category Display, how many products appear per page, and the Social network icons that display.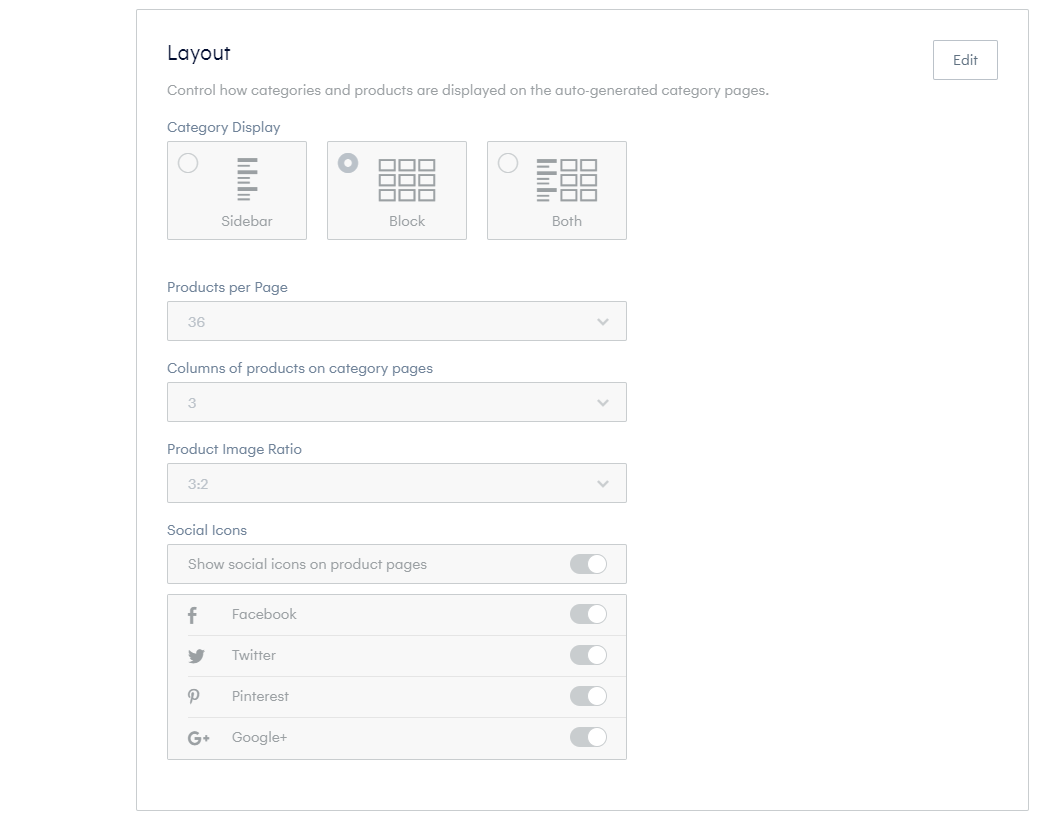 Tracking is useful for getting more detailed information about your customers and what they are most interested in.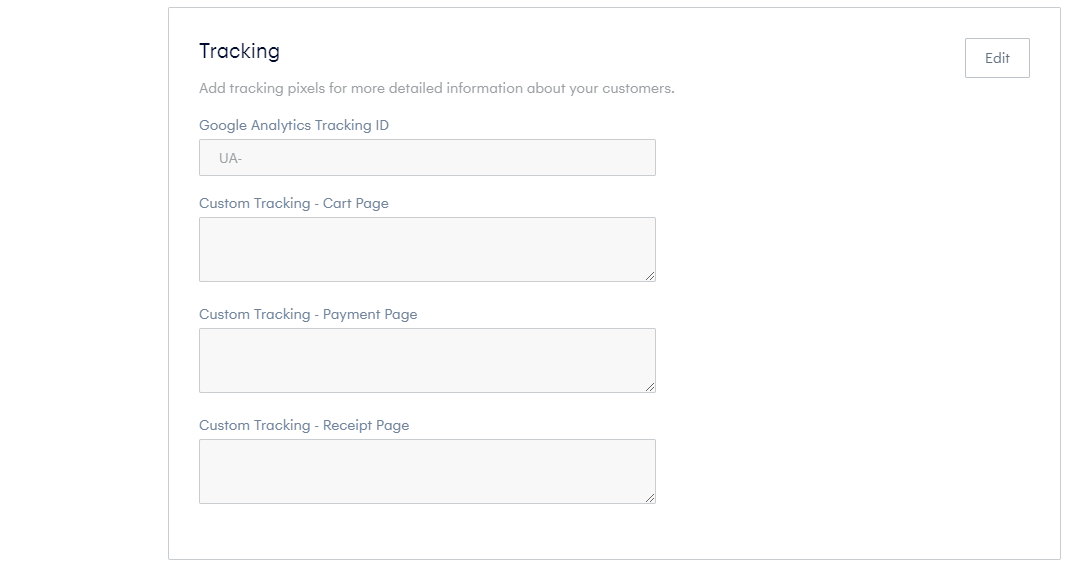 Checkout
In the Checkout subsection under Setup, you will set up the Payments that you can accept from your customers.
With the Free version of Weebly, the payment processors may be limited. To have more payment processors available for you to use, you may want to consider an upgrade of the Weebly on your hosting so that you will be able to utilize other Payment processors.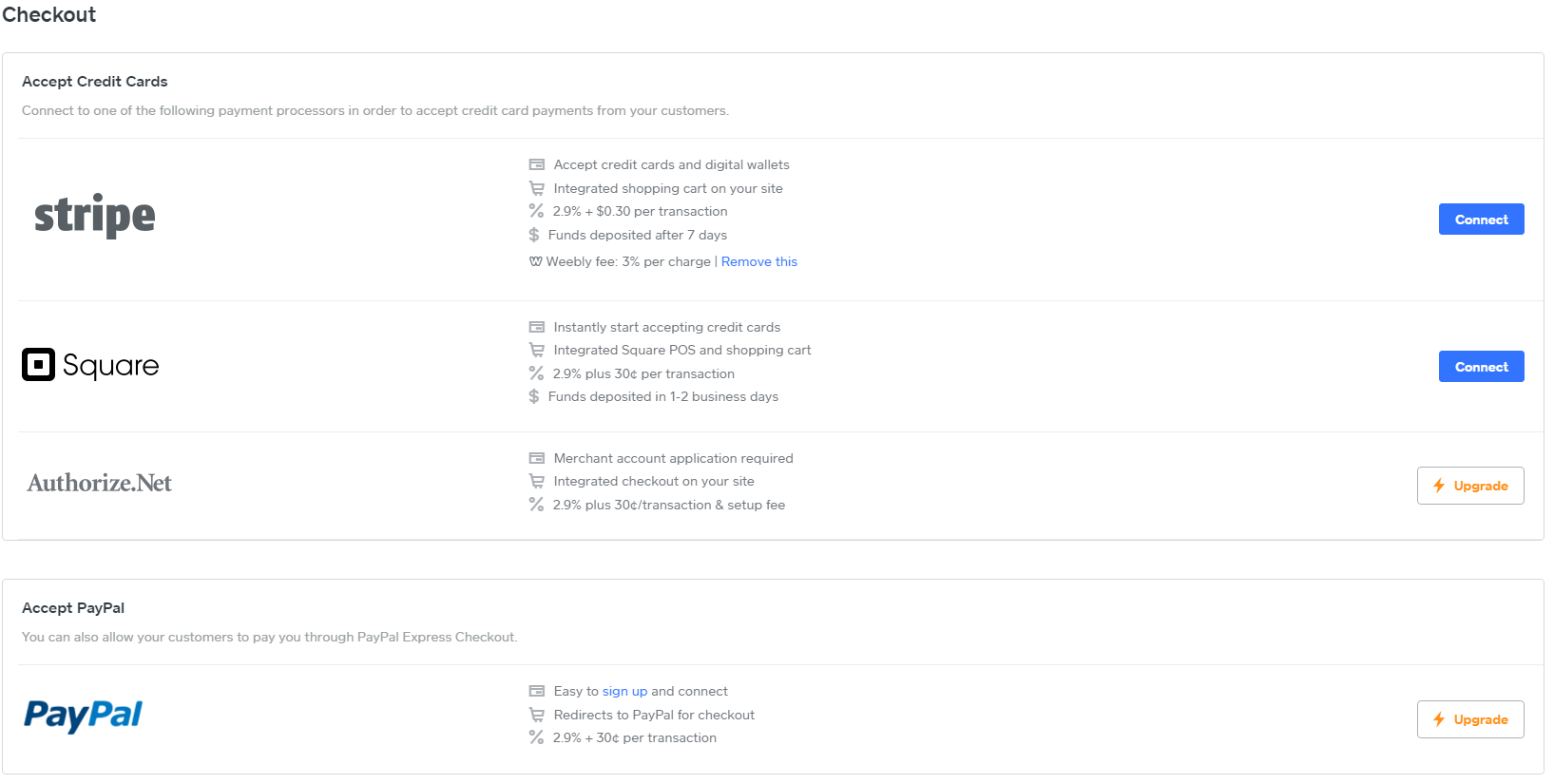 If you have any trouble with the available payment processors, you may need to disable Authorize.net and refresh the page. This will ensure you are using the most up-to-date API and can use the features included with your Weebly plan.
You can also specify the Return Policy as well as your Shipping Policy from this page. This will inform your customers of how you handle Refunds and Shipping so that they are not taken by surprise later on.
There are also additional Checkout options that you can enable on your checkout page. These options include the ability to collect the customer's address on orders for digital goods and services. Can also make the option available for the customer to add a Note to the seller or enter a Phone number for contact.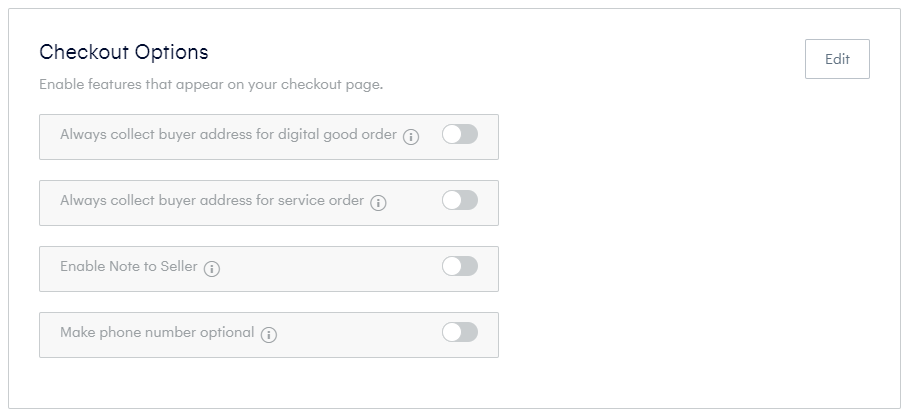 Shipping
On the Shipping sub-tab, you will be able to set up the Shipping Address for your products, rules regarding your shipments (such as where they can be shipped to, and rates per location), product availability based on certain locations (default allows Worldwide). With the Real-Time shipping section of this page, you can enable the ability to give up-to-date rates calculated by the carrier when the order is placed. This feature, however, requires that Product weights are entered for each product.
Shipping Rules can be created with the free version of Weebly. However, they will not be available until upgraded to a Premium version of Weebly.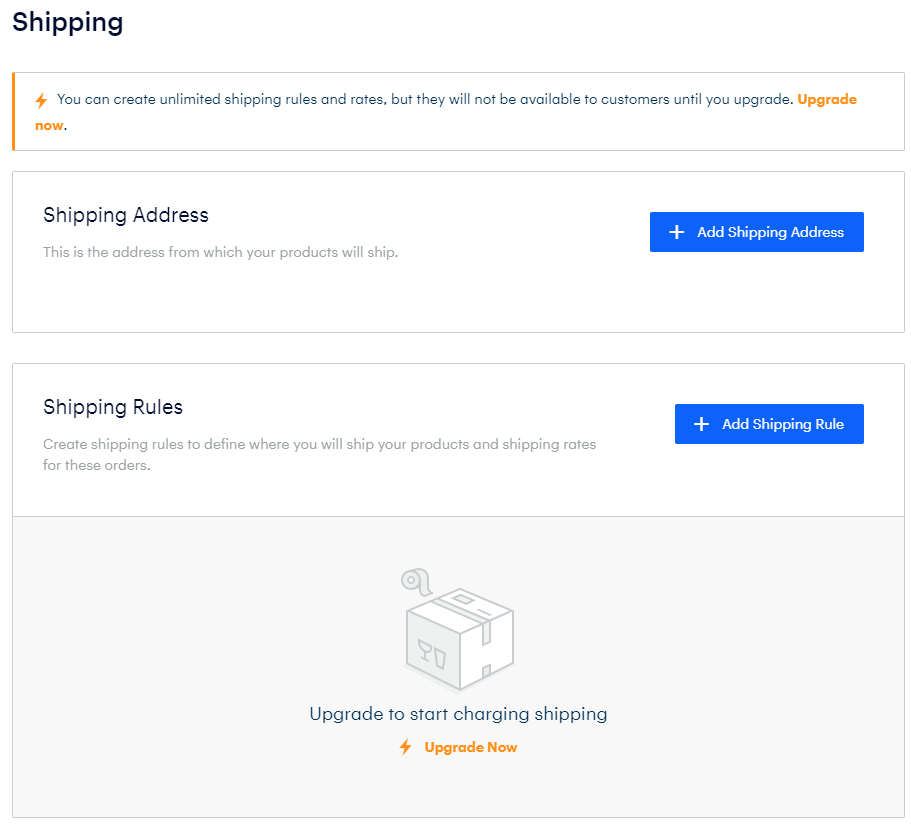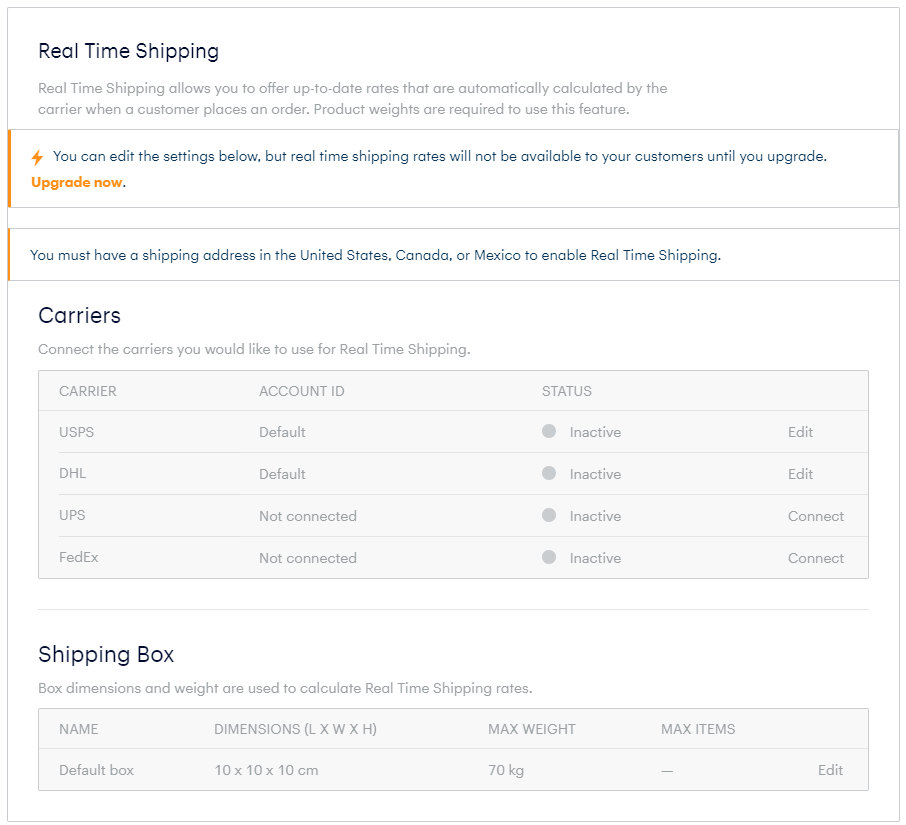 Taxes
For states and countries that require a tax for sales, you can add Taxes to the orders generated on your site. That way, these can be added to the price instead of coordinating the pricing to comply with taxes manually.
This feature is only available to Weebly instances that have been upgraded to have this feature.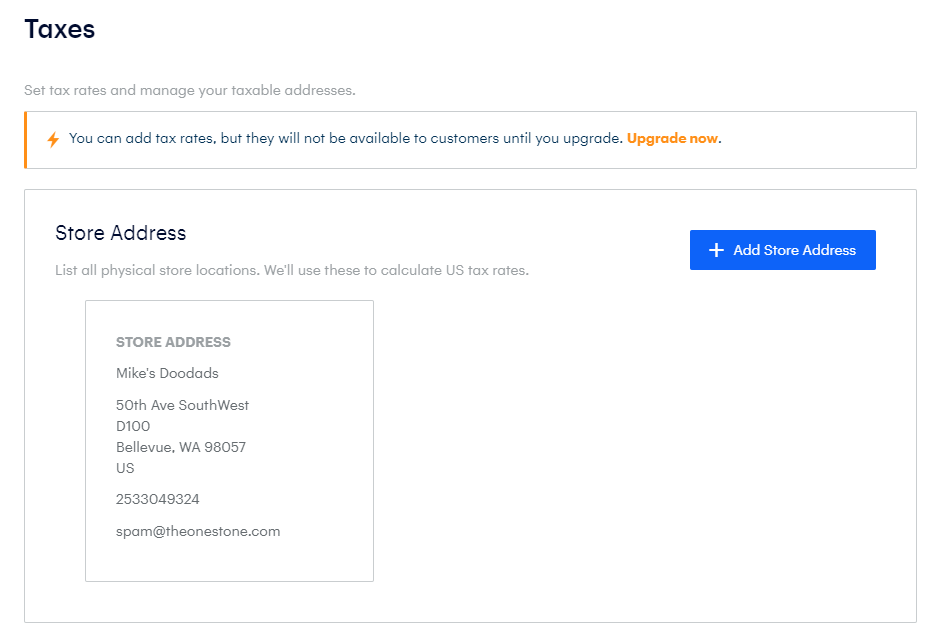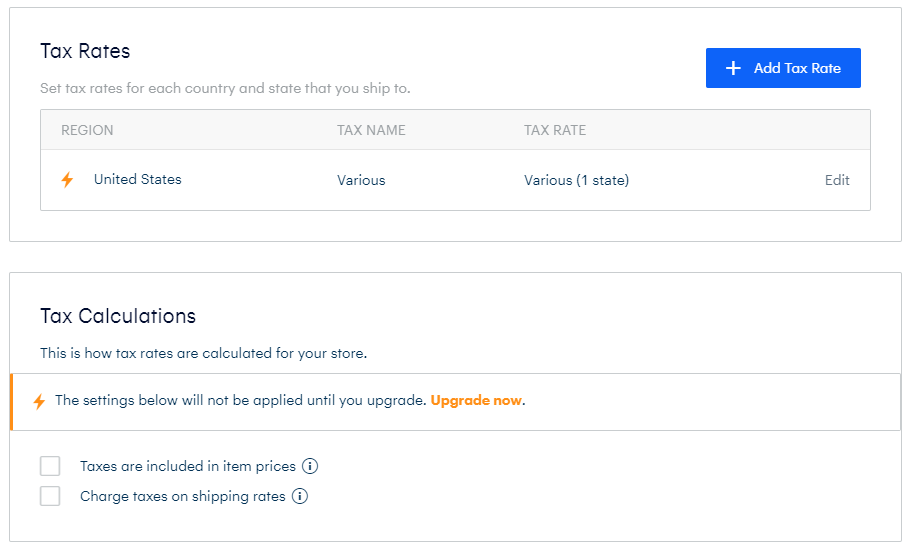 If you should have any questions or would like assistance, please contact us through Live Chat or by submitting a ticket with our Team.
Related Content: