Migrating your sites from your old hosting provider to your new Hostwinds Hosting plan is incredibly easy. Our Migration Process can usually take up to 48 hours total, provided there are no technical difficulties encountered. Migrations are reviewed on a case-by-case basis, and we have gone to great lengths to make this as seamless and easy as possible for you to get started with your new Hostwinds web hosting service as quickly as possible and experience.
How Do I Create The Migration Ticket?
Once you are ready for us to perform the migration, all it would require is a ticket.
There will be an option at the Top of the Hostwinds' website labeled, Open A Ticket to open tickets. You will want to click into that to be brought to the ticket creation page.
After you have arrived at the Ticket Creation page, you will be prompted to select your Hosting plan and a category for the Ticket. For the hosting plan, you will select the new Hosting plan that you are migrating to. For the category, you will set this to Migration Request.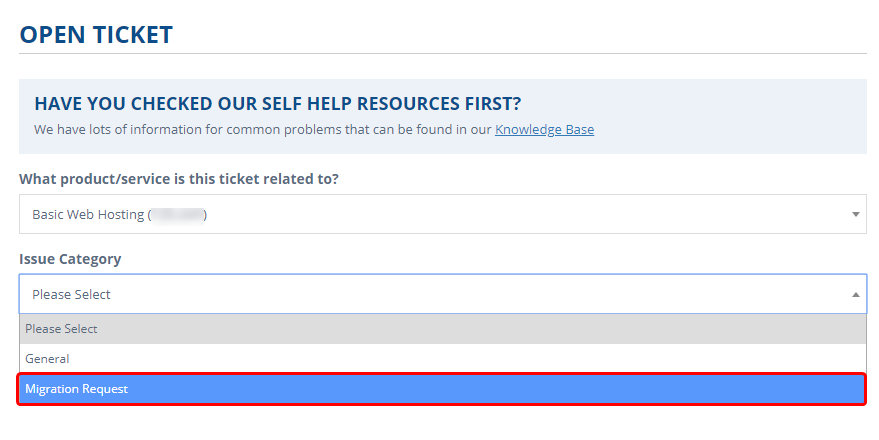 When you select Migration Request, there will be additional fields added below. This will be where you enter the login details for our Migration Experts to gather your files. Most of this is provided in a welcome email or requested from your old host if you are not sure what to enter into these fields.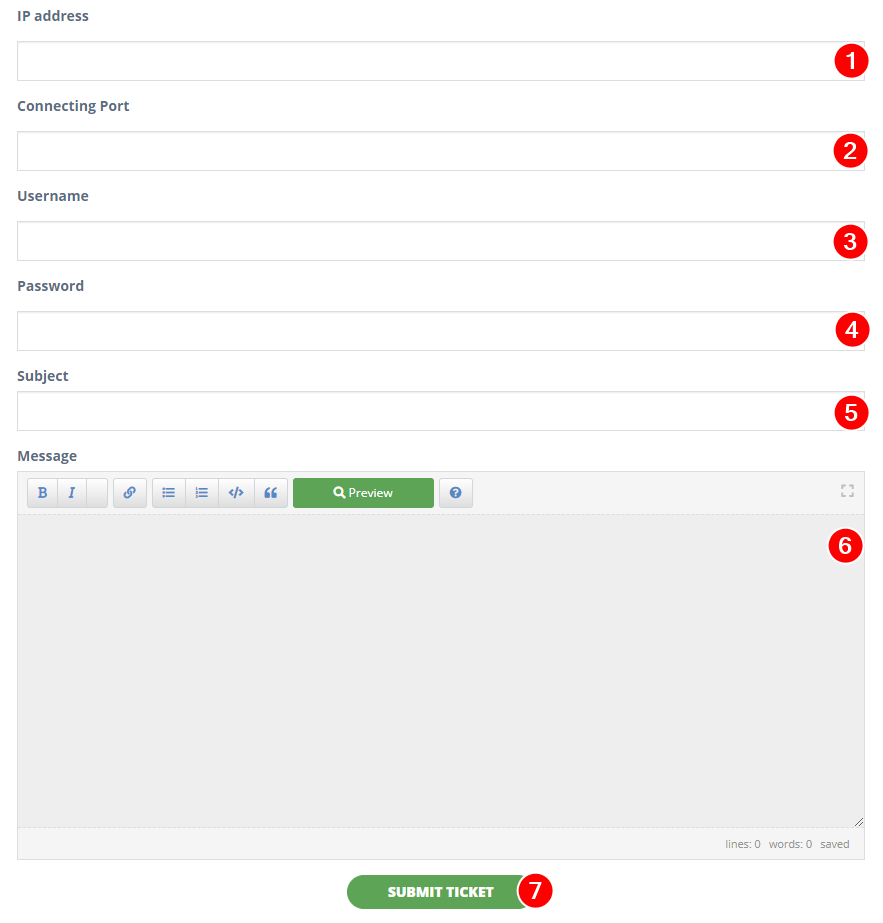 The IP Address field is where you will put the IP address used to FTP into your old server. If you do not know what this is or do not have FTP access, you can put the login URL for your Control Panel.
The connecting port would be the port that can be used to FTP into the old server. Again, if you do not know this, you can just put 21 as the default or leave it blank.
For the Username, you will either put the FTP username that can be used to retrieve files or the Username to log in to your Control panel. This can also be an email address if that is what you use.
This field should be filled out accurately with the current password that can be used to log in.
The Subject should be something simple for our Migration Experts to know that this is a Migration Request. A good title to leave as the default there can be "_Migration Request_"
You will put any necessary information in the message body that you believe our Migration Experts will need to know. You may have any special requests during the migration or specific requests that you have or state the site(s) you would like to migrate.
Once you have filled out all the necessary information as accurately as you can, you will Submit The Ticket. This will create the ticket so that our team of Migration Experts can work on this for you.
I Made The Ticket. What's Next?
After the ticket is created, our Migration Experts will be able to contact you through the ticket. Some reasons why our Migration Experts may notify you can include:
Username or Password not working to login to your old host
Progress updates during the migration
Any other information that may be required to perform the migration
Any clarification upon situations that can easily be confused to ensure the migration is done correctly.
At any point in time, you can also create a ticket response for our Migration Experts to view and respond to.
They Have Moved My Files. What Else Is Needed?
There is one last step for the migration process to complete, which will be instructed to you by our Migration Experts when it is time.
Please ensure that your old web hosting services remain active until this final step is completed to have no interruptions.
After our team of Migration Experts has copied over the files to your new hosting plan, they will ask that you confirm that everything looks good. There are many ways that you can test the site before changing your domain name's DNS or nameservers. One way to check would be through the use of Editing The Hosts File or configuring your website to utilize your account's IP address or server name so that you can visit this in your browser. That can be a little difficult to do and sometimes tedious as well, and our Live Chat support or Migration Experts are happy to answer any questions you might have about this.
Once you have verified that the migration was successful, you would only need to change your DNS such as an A record, MX record, or change your nameservers if you plan to use all of the services we offer you on your account. After that, it can take up to 24 hours to propagate completely, which you should wait before canceling your old hosting plan.
If you should have any questions or would like assistance, please contact us through Live Chat or by submitting a ticket with our Technical Support team.