What Is Business Hosting?
Business hosting is a web hosting package on a server shared between other users who have purchased a business hosting package.
These packages provide an affordable solution for individuals or businesses setting up their online presence.
With business hosting, you share the server's resources (CPU, RAM, Disk Space, etc.) and are restricted from making server-wide changes. That's why business hosting costs are drastically lower than that of a Cloud Server or Dedicated Server.
Which Products Are Considered Business Hosting?
All of the following hosting plans fall under business hosting:
Basic Business Hosting: Allows for a single domain to be hosted
Advanced Business Hosting: Allows for four (4) total domains to be hosted
Ultimate Business Hosting: Allows for unlimited domains to be hosted
The number of domains allowed to be hosted is the only difference between the three (3) packages.
Technical Specs
Our Business Hosting runs on Linux servers and includes cPanel as a web management tool.  Details of your services are sent as a welcome email for logging in and managing your website(s).
Here's some basic but important information about our Business Servers:
Each Business Server houses a maximum of 50 accounts
All Business Servers share the same configurations and optimizations
Business hosting offers a highly optimized Litespeed Web Server
Multi-PHP: Multi-PHP: PHP Versions 5.6, 7.0, 7.1, 7.2, 7.3, 7.4 (default version), 8.0, and 8.1 (Selectable Per Domain/Subdomain)
PHP Memory Limit: 512MB
Complete Access to Softaculous Auto Installer (Ability to install several hundred applications with one click, such as WordPress!)
All of our business hosting plans provide the following:
Unlimited Disk Space
Unlimited MySQL Databases/Users
Unlimited Email Accounts
Unlimited FTP Accounts
Unmetered Bandwidth
Unlimited Subdomains
CGI Access
Dedicated IP (at no extra cost)
Maximum Hourly Email by Account: 250
Parked Domains disabled
inode limits: 600,000
Business Servers run the latest version of CloudLinux 7 with cPanel.
Does Business Hosting Come With A Domain Registration?
This is a common question, and we are pleased to say YES. You can add a domain to your cart while you purchase your hosting plan. This will allow you to start an order for your domain alongside your hosting plan. You can also use this to start a transfer for your domain if you move it from another registrar.
Does Hostwinds Offer Site Migrations?
Yes! Once you've ordered your package, submit a support ticket requesting a website migration. You'll need to provide us with your previous hosting details (Hosting package logins), and our support staff will perform the following:
Fully migrate your account to your Hostwinds service
Test locally to ensure that the migration was completed successfully and without any errors
Update you once completed, confirming it's safe to switch your nameservers over to your new hosting package
Not sure how to update your nameservers? Let us know! We can do it for you if your domain is already registered with Hostwinds. If not, provide us with your registrar's login details, and our support staff can perform this change for you.
Available Addons
Advanced Website Monitoring
Always be the first to know exactly what's going on with your website. We'll keep you aware of your site's status, from immediate alerts to detailed reports.
We Monitor your Website 24/7
A support ticket is automatically opened on your behalf if your website goes offline or doesn't load correctly.
Shared Backups
Make sure your data is safe. Our Shared Backup service includes plans for crashes and other holdups. We're here to make sure your hard work isn't lost.
Base Price: $3 per month
Monthly Storage Price: $0.03 Per GB ($30 Per TB)
You're provided direct access to your backed-up data.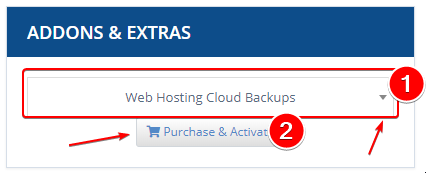 What Are My Upgrade Options?
You can upgrade and downgrade easily between the three (3) available packages (Basic, Advanced and Ultimate). Upgrades and downgrades will occur instantly and require zero interaction by support staff to be completed.
Downgrading to a plan with fewer available domains than what you presently have on your account will result in issues with the downgrade process. For example, your domains may stop resolving.
Example You have 15 domains set up with the Ultimate plan and decide to downgrade to the Advanced plan. But this plan only allows four (4) total domains (1 main domain + 3 addon domains). So before downgrading, you should remove domains you aren't going to be using in cPanel. So you should only have four (4) domains before actually downgrading. Otherwise, you risk 11 of them stopping working.
Feel free to talk to us via Live Chat if you want to know how to upgrade your services—our LiveChat Agents for assistance 24 hours a day, seven (7) days a week.
Can Users Upgrade To Other Plans?
Yes, but not directly. These would be considered as cross-plan upgrades, and you'd need to order the new service separately.
Which plans can I upgrade to?
You can upgrade to any of the above plans. You'd get more speed with business hosting since our Business servers utilize the LiteSpeed Web Server and offer additional PHP memory.
You can upgrade to either our Cloud Linux plans (SSD/HDD) or even a dedicated server if your website needs many resources.
Windows is not an upgrade option, as cPanel business hosting is based on Linux. You can upgrade to a Windows VPS or Dedicated Server, but our support staff does not support cross-OS migrations.
Will Hostwinds Assist Me With My Upgrade?
Absolutely! As long as the plan selected is fully managed, Hostwinds can complete your upgrade to your product of choice fully. However, note that you'll need to purchase a cPanel license if you upgrade to a Cloud or Dedicated server. A cPanel license costs $15 for Cloud Servers and $35 for Dedicated Servers.
What If I Don't Want cPanel?
You can use an alternative control panel or our LAMP stack application template on a Cloud Server. If you want all the features and options you have with cPanel. However, we suggest sticking with the control panel you are familiar with.
cPanel is not included with our VPS tiers and requires purchasing a cPanel VPS license starting at $15.00/mo from our store.