We understand that navigating the world of web hosting can be overwhelming, with so many options available. Fortunately, we're here to provide guidance and help you make an informed decision. In this guide, we'll provide detailed information about our Business Web Hosting service, which is a popular and trusted choice.
At Hostwinds, we also offer free migration services for those who want to transfer their website to our platform. If you're interested in taking advantage of this service, please visit our Migration Policy page for more information. We'll guide you through the process and make it as seamless as possible for you.
What is Business Web Hosting
Business Web Hosting is a web hosting service where multiple websites are hosted on a single server, sharing its resources such as disk space and bandwidth. However, Business Hosting offers key advantages than our Shared Web Hosting.

If you're looking for an optimized shared hosting environment, our Hostwinds Business Web Hosting is a perfect choice. With LiteSpeed web server, designed to handle high levels of traffic efficiently, you'll experience faster website load times and better overall performance compared to Shared Web Hosting. Business Hosting plans are also hosted on servers with fewer customers per server, meaning fewer shared resources, resulting in faster load times and better overall performance. Plus, with more resources in a shared environment, including additional memory and inodes, Business Hosting offers the perfect balance between affordability and performance.

Hostwinds Business Web Hosting Details
At Hostwinds, our Business Web Hosting packages come with a range of benefits at no additional cost. The main difference between the packages is:
However, all of our Business Hosting plans offer the same great features and technical specifications.

Technical Details
At Hostwinds, we offer Business Web Hosting packages that feature powerful Linux servers with SSDs to ensure that your website runs efficiently and securely. Our Hostwinds Tiers of Support are available to assist you whenever you need it, and our Business Web Hosting includes key features to help you get the most out of your website.
All Hostwinds Business Web Hosting plans are equipped with the following information, which cannot be altered, in addition to the aforementioned features:
After purchasing a Business Web Hosting package successfully, you will receive details regarding the service through the email address that you used to register.
If you require admin privileges or root access to the server, please note that our business hosting services do not include these features. In such cases, we highly recommend that you consider our VPS or dedicated server options, which can provide you with the necessary level of control.
Checkout Expectations
Adding a Domain
To ensure the smooth operation of your cPanel, Hostwinds requires a primary domain to be selected during checkout. Rest assured, this doesn't mean you have to register a new domain with us if you haven't already done so. It simply means you need to associate a domain with your Business Web Hosting purchase.
Adding your domain is a breeze - just click on "Select Domain" and enter the domain name you want to use. If you wish to register the domain (if available), click "Add to Cart." Alternatively, if you would like to proceed with transferring, select "Transfer My Domain." To confirm that your domain has been added correctly, check that it appears next to your web hosting package and as a separate line item in your cart at the bottom of the checkout page if you are registering or transferring.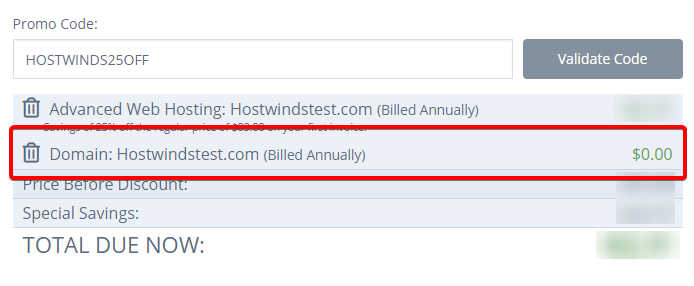 We want to make sure that you are aware that our Business Web Hosting plans do not include domain registration costs as part of our packages. However, we're here to help make things easy for you! At Hostwinds, we offer domain name registration and transfers to make your life simpler. By registering or transferring your domain to Hostwinds, you can easily manage your hosting and domain registrations all in one place.
You can register or transfer your domain to Hostwinds before, during, or after your Business Hosting order at any time. To register or transfer your domain, simply visit our registration portal here. And don't hesitate to reach out if you have any questions - we're always here to assist you!
Backups
At Hostwinds, we believe that backups are always crucial, regardless of your hosting provider. That's why we include backups as an additional feature during checkout by default. If you want to learn more about our Shared Hosting backups, we have a comprehensive guide available for you. Check out our "Shared and Business Hosting Backups" and "Backups Retention Periods" pages to find out more about this feature.
Upgradable Options
At Hostwinds, we offer a variety of upgradable options to support your growing needs, whatever they may be. These options include
We're always here to assist you with any migration needs for managed services. Please be aware that we can't migrate to Windows operating systems from our Business Web Hosting since it's Linux based. Nevertheless, we're more than willing to assist you with any of your Linux-based hosting needs. Please note that there may be additional licensing charges if necessary.
Related Resources