The world of web hosting is vast. Every hosting company offers a lot of the same, but slightly different. So how do you know what's what? This guide will work to explain one common hosting option. Hostwinds offers our Shared Web Hosting Overview.
What Is Shared Hosting?
Shared hosting, in general, is when a single physical server is set up to be used by multiple separate tenants or clients. This is typically accomplished by setting up individual pieces of that server into sub-accounts. It is commonly compared to renting an apartment in an apartment building. Hostwinds chooses to use cPanel to give our clients the ability to manage their web hosting accounts in an easy-to-use interface.
Shared hosting includes many benefits, as well as some drawbacks. For starters, a shared hosting plan is much less expensive than an option, as the cost for the server is shared among many clients. It also saves money by sharing the cost of various license costs, as well. cPanel, for instance, can cost up to $40 per month to license by itself.
There are drawbacks, as well. Shared hosting typically comes at the cost of reduced overall performance available to each tenant. This can be just fine in many different use cases, though. It takes very little processing power to support basic HTML-based sites or non-complex web apps.
Shared Web Hosting Details
Hostwinds offers Shared Web Hosting plans. All Shared Web Hosting plans at this level share the same performance. That is, they all have the same amount of RAM, CPU limits, etc. The only difference between the Basic, Advanced and Ultimate plans are as follows:
Basic: 1 Domain
Advanced: Up to 4 Domains
Ultimate: No Limit to domains
Technical Details
Our Shared Web servers feature CloudLinux-powered cPanel accounts that provide maximum performance and security throughout. Login details are sent upon successful purchase to the registration email on file. Furthermore, we offer one-click logins from the Client Area management page for your service.
Here is a rundown of the specifications made available to each Shared Web Hosting plan:
Maximum Tenancy: 60 Accounts
Shared Server Optimized services
Apache2 Optimized Web Server
Multi-PHP: PHP Versions 5.6, 7.0, 7.1, 7.2, 7.3, 7.4 (default version), 8.0, and 8.1 (Selectable Per Domain/Subdomain)
PHP Memory Limit: 256MB per cPanel
Softaculous App Installer: 1-click install over 400 apps, WordPress Included.
Also included with ALL Shared Web hosting plans:
Unlimited Storage, MySQL Databases, Email Accounts, FTP Accounts.
Unmetered Bandwidth
Unlimited Subdomains
CGI Access
Dedicated IP Address
Max Emails per Hour: 25 (cPanel-wide)
Parked Domains Disabled
iNode Limits: 250,000
Add Domain to Order
When processing your checkout, there is a place to select a domain. Be sure to click Select Domain and then Add to Cart to ensure the domain is added correctly.
To confirm that your domain has been added to your cart successfully, verify it exists as its own line item at the cart located at the bottom of the checkout page.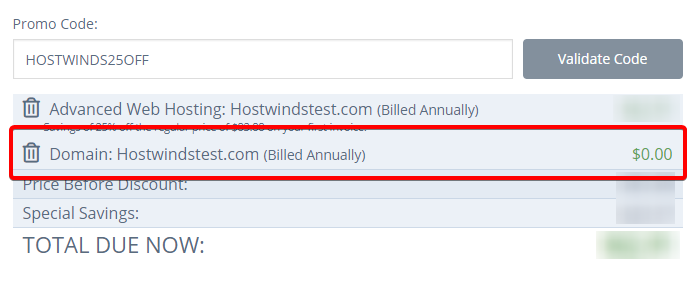 Furthermore, Additional domain name registrations are subject to registration costs. Therefore, renewals for the domain included on the first invoice are also billed normally.
WHOIS protection is not included but can be added after checkout.
Does Hostwinds offer FREE Site Migrations?
Absolutely! Hostwinds Hosting service can receive a complimentary migration of your web hosting account files at no extra cost. Review our migration process for more details.