Web hosting can be confusing, with so many companies offering similar but slightly different services. It can be hard to know which one is best for you. Luckily, we're here to help! In this guide, we'll explain all about Hostwinds Shared Web Hosting, which is a popular and reliable option.
Also, we offer free migration services for those who want to transfer their website to Hostwinds. If you're interested in migrating to Hostwinds, please take a look at our Migration Policy for more information.
What is Shared Hosting
Shared web hosting is a type of hosting where multiple websites share the same server resources. This type of hosting is cost-effective because the cost of the server is shared among many users. Shared hosting providers typically offer an easy-to-use control panel that allows users to manage their websites without needing advanced technical skills.
Hostwinds Shared Web Hosting is a hosting service that provides all the features of shared web hosting, including unlimited bandwidth, disk space, and email accounts. In addition, Hostwinds provides users with a user-friendly control panel called cPanel, which allows users to manage their websites, files, and email accounts with ease. Hostwinds Shared Web Hosting also includes 24/7 customer support, ensuring that users can get help with any issues that may arise.
Compared to other shared hosting providers, Hostwinds stands out for its excellent customer support, user-friendly control panel, and feature-rich hosting plans. Hostwinds offers flexible plans to suit the specific needs of each user, making it an ideal choice for individuals, small businesses, and large enterprises alike. Overall, Hostwinds Shared Web Hosting is a reliable and affordable option for anyone who wants to create a website or blog.
Hostwinds Shared Web Hosting Details
Hostwinds Shared Web Hosting offers various benefits without any extra cost. The only significant difference between the different shared hosting packages is the number of domains that can be hosted.
Apart from this, all shared hosting packages offer the same features and technical details.
Technical Details
When you buy Shared Web Hosting from Hostwinds, you'll get a powerful server that uses CloudLinux-powered cPanel accounts and runs with SSDs to keep your website running at top speed while staying secure. We provide you with our Hostwinds Tiers of Support, which means we are here to help you whenever needed. Here are some of the main things that you can expect from our Shared Web Hosting:
In addition to the above features, all Hostwinds Shared Web Hosting plans are configured with the following information and cannot be changed:
Upon successfully purchasing a Shared Web Hosting package, details will be sent to the email you used to register for the service.
Our shared hosting services do not include admin privileges or root access to the server. For those requiring this control level, we recommend exploring our VPS or dedicated server options.
Checkout Expectations
The following can be expected when checking out with a Hostwinds Shared Web Hosting package.
Adding a Domain
At Hostwinds, we want to ensure that your cPanel operates smoothly. In order to do so, we require a primary domain during checkout. Don't worry, this does not mean you have to register a new domain with us if you haven't already done so. It simply means you need to select a domain to be associated with your Shared Hosting purchase.
In order to add your domain successfully, simply click on "Select Domain" and enter the domain name that you would like to use. If you wish to register the domain (if available), please click "Add to Cart." On the other hand, if you would like to proceed with transferring, select "Transfer My Domain." You can easily check if your domain has been added correctly by verifying that it appears next to your web hosting package and as a separate line item in your cart at the bottom of the checkout page if you are registering or transferring.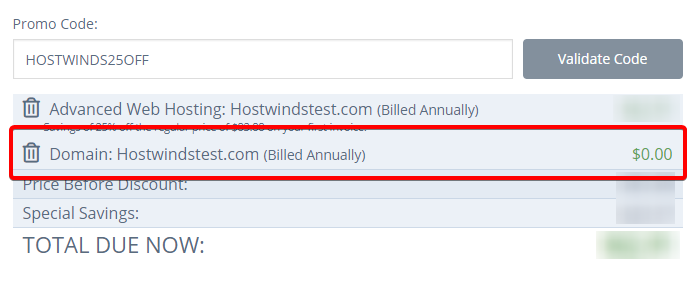 We want to clarify that our Shared Hosting plans do not include domain registration costs as part of our packages. However, at Hostwinds, we do provide domain name registration and transfers for your convenience. By registering or transferring your domain to Hostwinds, you can easily manage your hosting and registrations all in one place.
You have the option to perform domain registration before, during, or after your Shared Hosting order at any time. If you want to register or transfer your domain to Hostwinds, please visit our registration portal here. We'd be happy to assist you with any questions you may have.
Backups
We understand the importance of keeping your data safe, which is why we offer backups as an additional feature during checkout by default at Hostwinds. We believe backups are crucial, regardless of your hosting provider. If you want to learn more about our Shared Hosting backups, we have a comprehensive guide available for you. Visit our "Shared and Business Hosting Backups" and "Backups Retention Periods" pages to find out more about this feature.
Upgradable Options
Great news! Hostwinds has got you covered with several upgradable options to choose from should you ever need more resources to accommodate your specific needs or business growth. These include:
Moreover, Hostwinds is always willing to lend a helping hand with any migration required for managed services upon request. However, kindly note that we won't be able to migrate to Windows operating system as our shared web hosting is Linux based. Also, remember that additional charges may apply for required licensing, if applicable.
Related Resources